Announces name change from Casabots to Chowbotics
SAN JOSE, Calif., March 9, 2017 /PRNewswire/ -- Food robotics company Chowbotics received $5 million of Series A funding from Techstars Ventures, Foundry Group, Galvanize Ventures and the Geekdom Fund. The company also announced a name change from Casabots to Chowbotics. Foundry Group is considered one of the leading hardware investors in the United States, with past investments in Fitbit, Makerbot, FormLabs, Sphero and Occipital. Techstars Ventures is considered a leading early stage investment firm, with seed investments in Twilio, Uber, SendGrid and Sphero.

"The use of robotics in food service is an exciting new area. We believe Chowbotics is the number one company in this emerging space and are thrilled to invest in its growth," says Jason Mendelson of The Foundry Group.
Chowbotics uses robots to solve several problems in food service including compromised cleanliness and inefficiency. It is targeting cafeterias, restaurants and hotels. Its first robot, Sally, offers fully-customized, fresh and healthy salads. Sally's proprietary technology dispenses measured quantities of more than 20 ingredients - refreshed daily - to create a ready-to-eat meal any time of day. The technology, with several patents pending, is also applicable to other cuisines, such as Mexican and Indian, and respective robots will follow.
"Techstars helps entrepreneurs succeed, and we've been working with Chowbotics since their early days in the Techstars Austin accelerator. We've been incredibly impressed with their progress. We invested in their Seed Round and are excited to invest in their Series A," says David Cohen, Founder and co-CEO of Techstars. Cohen and Mendelson will join Chowbotics' Board of Directors.
Chowbotics was founded by Deepak Sekar, Ph.D., an inventor with more than 100 issued patents, to make food preparation fun by automating tedious, repetitive tasks with robotics. Rich Page, an Apple Fellow who joined Steve Jobs as a Co-Founder and VP at NeXT, serves as the Executive Chairman of Chowbotics. The team includes alumni from companies such as Rambus, Apple, TGI Friday's, Denny's, Arby's, McDonald's, FANUC Robotics and Disney; as well as universities such as MIT, Carnegie Mellon, Georgia Tech, Indian Institute of Technology and Tsinghua University.
Chowbotics raised its seed funding round of $1.3M from the Central Texas Angel Network, Techstars Ventures, Galvanize Ventures, Geekdom Fund, v1 and an owner of 15 McDonald's restaurants.
Featured Product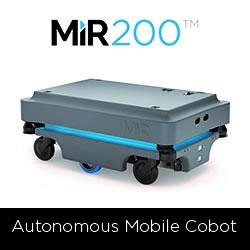 MiR200 is a safe, cost-effective mobile robot that automates your internal transportation. The robot optimizes workflows, freeing staff resources so you can increase productivity and reduce costs. MiR200 safely maneuvers around people and obstacles, through doorways and in and out of lifts. You can download CAD files of the building directly to the robot, or program it with the simple, web-based interface that requires no prior programming experience. With its fast implementation, the robots offers a fast ROI, with payback in as little as a year.