Thirteen Chinese Companies Exhibit in the United States for the First Time
ANN ARBOR, MI - March 15, 2017. The Association for Advancing Automation (A3) today announced a joint US-China Robotics Forum to be held April 4 at the Automate 2017 Show and Conference at Chicagos McCormick Place. The forum will bring together A3s Robotic Industries Association (RIA), the leading North American robotics industry trade organization, and its counterpart, the China Robot Industry Alliance (CRIA). According to the World Robotics Report 2016, published by the International Federation of Robotics (IFR), China has significantly expanded its leading position as the largest robotics market in the world purchasing 27% of the total supply in 2015.

Forum Program
The forum will feature several talks from industry leaders including Mr. Song Xiaogang, Executive President, China Robot Industry Alliance and Dr. Qu Daokui, President, Siasun Robot & Automation Co Ltd. Speakers from the Robotic Industries Association will include Mike Jacobs, CEO, Applied Manufacturing Technologies and Chair of the RIA Board and Scott Eckert, CEO of Rethink Robotics and RIA Board Member. Participating panelists include Qu Daokui, President of Siasun; Liu Erbing, Vice President of Risong Technology; Joe Gemma, Chief Regional Officer of KUKA; and Stu Shepherd, CEO of Gudel US. The event starts April 4 at 10:15am in the Future of Automation theater on the Automate show floor.
"The US-China Robotics Forum is a groundbreaking event for robotics companies in both countries," stated Jeff Burnstein, president of A3. "The forum paves the way for an ongoing exchange of ideas and the forging of strategic partnerships that will better serve global automation companies."
China Participation in Automate 2017
Thirteen Chinese automation companies are participating in Automate 2017 this year -- the first time that any Chinese robotics suppliers have participated in an automation trade show in the United States. The participants are as follows:
• CF Electric Motor Co., Ltd.
• Changzhou Haosheng Motor Co.,Ltd.
• Eumax Corp.
• Fulling & Ceiec Co.,Ltd.
• HIT Robot Group
• Luoyang Huigong Bearing Technology Co.,Ltd.
• Protruly Vision Technology Group
• Qinchuan Machine Tool &Tool Group Corp.
• Shenyang Siasun & Automation Co.,Ltd.
• Shenyang Zhongke Allwin Technology Co., Ltd.
• Shenzhen Casic Motor System Co.,Ltd.
• Taizhou Houle Industrial Co., Ltd.
• Zhejiang Qiyue Machanical Technology Co., Ltd.
Registration Open
More than 20,000 attendees are expected to attend Automate 2017, from all 50 states and more than 70 countries. Attendee registration is now open at the following link: Automate 2017 (www.automateshow.com). Prospective exhibitors can find more information on exhibition opportunities at the event website.
About Association for Advancing Automation (A3)
The Association for Advancing Automation is the global advocate for the benefits of automating. A3 promotes automation technologies and ideas that transform the way business is done. A3 is the umbrella group for Robotic Industries Association (RIA), AIA - Advancing Vision + Imaging, and Motion Control & Motor Association (MCMA). RIA, AIA, and MCMA combined represent over 1,000 automation manufacturers, component suppliers, system integrators, end users, research groups and consulting firms from throughout the world that drive automation forward. For more information, please visit our websites: A3 - www.A3automate.org. RIA - www.robotics.org. AIA - www.visiononline.org. MCMA - www.motioncontrolonline.org.
Featured Product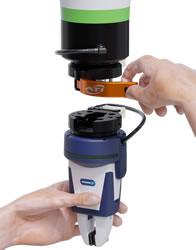 Simpler, stronger, and more precise. ATI Industrial Automation has developed a series of Manual Tool Changers that provides a cost-effective solution for quickly changing tools by hand. They feature a unique design that combines high strength, excellent repeatability, and a patent-pending screw-cam locking mechanism with multiple fail-safe features, which resists vibration and prevents loosening. These robust and compact Manual Tool Changers can handle payloads up to 80 pounds (36 kg) and pass pneumatics and electrical signals.