NEVO Europe views France as a key market; hospital pharmacists will have an opportunity to learn how RIVA prevents medication errors and increases safety.
NEVO Europe, a specialist in IV compounding automation solutions, will present RIVA, the world's first fully automated IV compounding system at the EAHP Congress 2017(the 22th Congress of the European Association of Hospital Pharmacists), which will take place in Cannes, France on March 22-24, 2017.

Hospital pharmacists will have an opportunity to receive information about the innovative automated IV compounding technology at booth #64 at the congress.
"The fact that EAHP is taking place in Cannes this year is an excellent opportunity for us, as French pharmacists pay strict attention to safety issues relating to patients and hospital personnel and are very keen to adopt new technologies that prepare IV bags and syringes," said Claude Sebag, country leader of NEVO Europe for France, Belgium and Switzerland.
"NEVO Europe views France, with its advanced health system, as a key strategic European market. We decided therefore to expand our activities in France, which will serve as a base for the future expansion of RIVA in Europe," he added.
A number of French hospital managers and pharmacists have already viewed a live product demonstration of RIVA at the 2016 ASHP Clinical Midyear Meeting and Exhibition (Las Vegas, December 2016). Participants were very impressed by RIVA.
The improved RIVA system includes more than 100 additional features and updates. The upgrade enhances pharmacy workflow and inventory management. RIVA is constantly being improved as a result of the strong, combined efforts of its manufacturer, distributors and customers.
RIVA prepares syringes and IV bags in an aseptic ISO Class 5 environment, which significantly increases patient safety, cost savings and pharmacy productivity, and has already prepared more than 6 million doses accurately.
Featured Product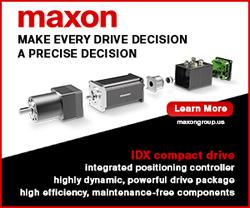 Discover the world of drive technology from a leading worldwide supplier of innovative customized drives. - Manufacturer of brushed and brushless DC motors, gearheads and motion controllers - Custom drive systems, quantities as low as a single unit - Certified for aerospace and medical applications