OTTO Motors elected to RBR50
Kitchener, ON, Canada, Mar. 21, 2017 - Robotics Business Review (RBR) has unveiled its sixth annual RBR50 list, naming OTTO™ Motors as one of the most noteworthy companies in the global robotics industry for 2017.

The global robotics industry is more competitive than ever, and new companies are emerging constantly. The RBR50 list is made of companies who are visionaries, trend setters, and companies to watch. They are recognized based on their groundbreaking applications, market influence, and industry potential. The list represents many different levels and facets of the robotics ecosystem.
"For this year's list, our team had the daunting task of evaluating numerous competitive nominations. The RBR50 for 2017 represents the cream of the crop of the world's most innovative, most influential, and most commercially successful robotics companies," said Eugene Demaitre, RBR senior editor.
"We have a team of passionate innovators, who are fully committed to solving material transport problems for industrial leaders. Were humbled and incredibly honored to be recognized on the RBR 50 list," said Simon Drexler, Director of Industrial Products at OTTO Motors.
This international compilation spans 10 countries and includes companies ranging from brand-new startups to the biggest robotics makers. The RBR50 list is dynamic, with robotics companies entering and leaving on an annual basis and thus creating a list that is indicative of where the global automation as a whole is headed.
"We expect the RBR50 honorees to continue to lead the industry across growing markets, and we look forward to tracking their progress in 2017," added Demaitre.
OTTO Motors flagship product is the OTTO™ 100 self-driving vehicle, released in 2016. The OTTO platform provides intelligent, flexible material transport for industrial facilities and does not require fixed infrastructure to operate (no barcodes, beacons or pre-programmed paths).
About OTTO Motors
OTTO Motors, a division of Clearpath Robotics Inc, provides self-driving vehicles designed exclusively for indoor material transport. The vehicles operate with infrastructure-free navigation, offering intelligent, safe, efficient, and reliable transportation within industrial centers. The division's flagship product is the OTTO 100, a small, powerful self-driving vehicle designed to move boxes, carts, bins and other human-scale payloads through dynamic environments. For more information, visit ottomotors.com.
About Robotics Business Review
Robotics Business Review provides business intelligence for the global robotics industry. Members enjoy exclusive insights into global news, tracking of financial transactions, analysis of new technologies and companies, annual and quarterly research reports, access to the RBR50 Top 50 Companies list and much more. Visit RoboticsBusinessReview.com.
Featured Product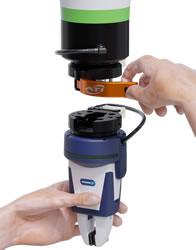 Simpler, stronger, and more precise. ATI Industrial Automation has developed a series of Manual Tool Changers that provides a cost-effective solution for quickly changing tools by hand. They feature a unique design that combines high strength, excellent repeatability, and a patent-pending screw-cam locking mechanism with multiple fail-safe features, which resists vibration and prevents loosening. These robust and compact Manual Tool Changers can handle payloads up to 80 pounds (36 kg) and pass pneumatics and electrical signals.