Intruder Recognition System adds advanced people and vehicle detection on the moving robot, giving the S5 higher levels of autonomy.
SMP Robotics Systems Corp., a manufacturer of autonomous mobile robots, announced today that its master distributor Robotic Assistant Devices (RAD) will present the next generation of SMP Robotics S5 HD Security Robot at the ISC West Conference in Las Vegas.

"We started to design robots in 2009 and today SMP Robotics remains a strong player in the space," said Leo Ryzhenko, CEO of SMP Robotics. "The company holds more than ten patents in the field of mobile robotics and our S5 security robots have earned numerous awards, including the Tech Tank and the Featured New Product at the ISC East Security Conference."
Continuing its rapid pace of innovation, SMP Robotics is excited to present its new product line-up at ISC West alongside RAD. The enhanced S5 HD security robots include the prototype of intruder recognition system that offers global security teams situational awareness tools to deliver unprecedented deployment flexibility and operational productivity. Robots can learn from the environment around them to navigate safely, as well as identify and classify objects such as people, car plates and uniforms. SMP Robotics will begin testing the new S5 HD lineup with select customers in the beginning of the summer.
"This innovation marks the next generation of robotics," said Steve Reinharz, Founder and CEO of Robotic Assistant Devices. "The intruder recognition system makes the ideal platform for the SMP autonomous robotic systems, helping the robotic guards be more predictive, accurate, productive and easily reconfigured for a variety of tasks."
To see a live demonstration of the S5 HD Security Robot at the Sands Expo Center in Las Vegas, NV, from April 4-7, 2017, visit Robotic Assistant Devices in Booth 3122. For more information or to schedule a meeting at ISC West, email mediarelations(at)roboticassistancedevices(dot)com.
About SMP Robotics
SMP Robotics Corporation is a manufacturer of autonomous mobile robots. Headquartered in California, the company has offices in Europe and Asia. SMP Robotics started to design robots in 2009 and remains a strong player in the space.
Today, the company offers more than a dozen models of robots for various purposes, has its own assembly plant, research and development center and large distribution network. SMP Robotics holds more than ten patents in the field of mobile robotics.
For more information, visit: http://smprobotics.com/
Featured Product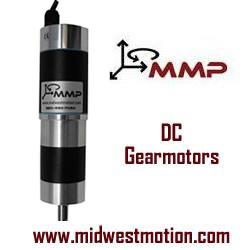 Midwest Motion Products, Inc. (MMP), is a well-established, healthy, & growing Family Owned Business, founded in 2001. MMP specializes in cost-effective standard DC Gearmotors, Motors, Controls, and ancillary equipment. Known world-wide for our "Lightning Fast" delivery capabilities, you can have a Standard Planetary or Right Angled DC Gearmotor BUILT and SHIPPED, often on the very same day you call. Offering Brushed and Brushless designs, with winding voltages ranging from 12 VDC to 120 VDC, we can deliver your "Robust & Reliable" samples within HOURS, instead of weeks, or even months.