Finalist for MHI Innovation Award - Best New Product
BOSTON--(BUSINESS WIRE)--6 River Systems, Inc. (6RS) announces the general availability of the Collaborative Fulfillment System (CFS). The CFS is a turnkey automation solution for split case picking operations typically found in e-commerce, retail replenishment, third-party logistics (3PL), and parts distribution. The system has demonstrated significant rate improvements—two to three times faster—over existing cart pick technologies. Today, the CFS is running at several sites across the U.S.

The solution uses proprietary mobile robots and cloud-based enterprise software that integrates easily with all Warehouse Management Systems. It is the first automation system in the world to have a mobile robot lead the associate through a zone-based picking and replenishment workflow, maximizing associate rates while minimizing the number of robots. Unlike traditional automation projects that take months to deploy, the 6RS system requires no new infrastructure and can be fully operational at a customer site in a couple of weeks.
"We expected 50 percent rate improvement using a small number of robots, but we achieved greater than 100 percent improvements during initial pilots and used fewer robots than expected. That's great news for our customers. Faster rates and fewer robots allow us to deliver the best payback in the industry for our customers," said Christopher Cacioppo, 6RS co-founder and head of engineering.
6RS is exhibiting at ProMat 2017 in Chicago, April 3-6. ProMat is North America's largest supply chain, manufacturing, and distribution automation trade show. The CFS is a finalist for the show's 2017 MHI Innovation Award for Best New Product.
About 6 River Systems, Inc.
6 River Systems, Inc. is based in Greater Boston and was founded by Jerome Dubois, Rylan Hamilton, and Christopher Cacioppo. The 6RS mission is to redefine fulfillment automation for e-commerce and retail operations. Jerome Dubois and Rylan Hamilton are former executives of Kiva Systems (now Amazon Robotics). www.6river.com
Featured Product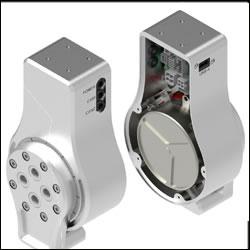 A brushless DC motor solution for use in hip and knee exoskeletons. This complete joint actuation unit consists of motor, gearhead, encoder and position controller. Fitting absolute encoder directly at the joint rotation provides designers increased positioning accuracy. The unit will deliver 54Nm of continuous torque and 120Nm on a 20% duty cycle. The system can be operated on supplies between 10 and 50V DC and the actuation speed is up to 22rpm.