VA Begins Second Year of National Study of ReWalk Robotics Exoskeleton for Personal Use
YOKNEAM ILIT, Israel and MARLBOROUGH, Mass., April 6, 2017 /PRNewswire/ -- ReWalk Robotics Ltd. (Nasdaq: RWLK) ("ReWalk"), leading manufacturer and producer of exoskeleton systems, announced today that the U.S. Department of Veterans Affairs (VA) purchased 28 ReWalk Personal Exoskeleton Systems to support an ongoing national multi-center clinical trial. ReWalk confirmed shipment of 20 systems to the VA in the first quarter of 2017; the remaining eight systems from this purchase will be shipped in the second quarter of this year.

"We are pleased to be able to support this clinical trial with the Department of Veterans Affairs as the study progresses and offers more Veterans with paralysis access to exoskeleton technology in their home," said Larry Jasinski, CEO of ReWalk Robotics. "The VA remains a national leader in its study of the impact of exoskeletons on the health and well-being of individuals utilizing these devices. ReWalk is proud to contribute to these efforts to those who have served."
The 28 system purchase follows an initial purchase of 20 systems by the VA in 2016, which helped with the initiation of the multi-year, multi-center study. The clinical trial is the first-ever study conducted in the United States to study the impact of exoskeleton use in a personal setting. The study is enrolling 160 randomized patients, half of whom use ReWalk Robotics' exoskeleton system and half of whom use standard wheelchairs. Currently, there are six VA centers actively enrolling participants in the study, with four more VA centers set to be included by this summer. At the end of the study, all participating patients could qualify for procurement of a ReWalk exoskeleton system.
The Department of Veterans Affairs is the largest healthcare provider in the U.S. for people with spinal cord injury (SCI). In 2015, the VA issued a national coverage policy to provide qualifying veterans with SCI access to evaluation, training, and supply of ReWalk Personal systems. ReWalk is also the first exoskeleton manufacturer in the United States to receive FDA clearance for use in the home, the community, as well as in the rehabilitation setting.
For more information on the clinical trial and participating centers, visit the NIH website: www.clinicaltrials.gov Identifier: NCT02658656.
About ReWalk Robotics Ltd.
ReWalk Robotics Ltd. develops, manufactures and markets wearable robotic exoskeletons for individuals with spinal cord injury. Our mission is to fundamentally change the quality of life for individuals with lower limb disability through the creation and development of market leading robotic technologies. Founded in 2001, ReWalk has headquarters in the U.S., Israel and Germany. For more information on the ReWalk systems, please visit www.rewalk.com. ReWalk® is a registered trademark of ReWalk Robotics Ltd. in Israel.
Featured Product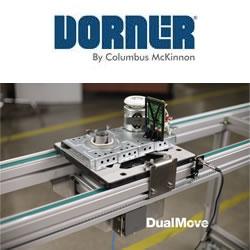 Dorner's 2200 Series Precision Move Pallet Systems are ideal for assembly automation. With features such as an innovative timing belt conveyor design and industry best pallet transfers, they get your product to the exact location, at the exact time and in the exact position it needs to be. They are now available with new options such as heavy load corner modules with 150 lb. capacity and 180 degree tight transfer corners for compact loops.