Festo products ensure consistency, quality, and cleanliness batch to batch. (Festo BrewExpo Booth #2948)
HAUPPAUGE, NY, April 10, 2017 — Festo, one of the worlds leading processing solutions providers, features at Craft Brewers Conference & BrewExpo America in Washington DC, April 11-13, automation components and systems that make brewing processes repeatable and outcomes consistent and high caliber. (Festo BrewExpo Booth #2948)

The Festo VZXF angle seat valve communicates with process controllers to automatically regulate the flow of liquids and gases in the clean-in-place process. Customers such as brewing systems suppliers, tank and systems manufacturers, engineering companies, and brewery operations personnel can order a single VZXF and other Festo automated valves singly or in groups with a pre-assembled valve manifold for faster installation.
The industry leading Festo MS-series modular air preparation system ensures that compressed air meets breweries stringent purity requirements. MS air preparation modules filter compressed air and keep it free of taste-effecting contaminants during wort aeration. Other cleanliness applications include filtering air that blows out lines between batches and drying bottles and cans prior to filling.
Products in the Festo Clean Design portfolio of automation components are engineered to function in harsh wash down environments. These Festo products feature smooth surfaces and the absence of dirt traps. Food-safe grease and FDA approved materials are hallmarks of the portfolio as are corrosion resistant materials that prevent premature failure. Festo features the MPA-C valve manifold that can be mounted out in the open near valves for more effective and energy-efficient operation.
The companys downloadable brochure, A 6-pack of innovations for Craft Beer, provides an overview of brew-centric solutions, including:
• Customized process control cabinets
• Solutions for keg and vessel cleaning
• Simple and cost effective controls
• Compressed air quality
• Automated flow control
• Automated clean-in-place
• Fast, assured product shipping
• Online design tools
Additional information can be found on the Festo brewery applications webpage and by calling 800-993-3786. Visit www.festo.us for an overview of this global company.
###
About Festo
Festo is a leading manufacturer of pneumatic and electromechanical systems, components, and controls for process and industrial automation. For more than 40 years, Festo Corporation has continuously elevated the state of manufacturing with innovations and optimized motion control solutions that deliver higher performing, more profitable automated manufacturing and processing equipment.
Connect with Festo: Facebook, LinkedIn, Twitter and YouTube
Featured Product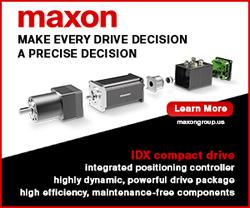 A brushless DC motor solution for use in hip and knee exoskeletons. This complete joint actuation unit consists of motor, gearhead, encoder and position controller. Fitting absolute encoder directly at the joint rotation provides designers increased positioning accuracy. The unit will deliver 54Nm of continuous torque and 120Nm on a 20% duty cycle. The system can be operated on supplies between 10 and 50V DC and the actuation speed is up to 22rpm.