New Rotary Tables Expand DESTACO's Product Range Options, Advancing Solutions to the Market.
DESTACO, the industrys leading global provider of high-performance automation, workholding and containment solutions, is excited to announce the launch of its new family of GTB Series Servo Positioning Rotary Tables.

The GTB Series of Servo Positioning Rotary Tables are the first products to be launched as part of DESTACOS technical partnership with Techno Dynamics, Inc. (TDI), a Japan-based company and leader in the development of motion solutions.
"DESTACO has a 100-year history and an outstanding track record of developing highly engineered solutions to help our customers around the world achieve unparalleled precision and productivity," said Byron J. Paul, President of DESTACO. "The GTB Series Rotary Tables expands our technology base and advances our solutions to the market. Our customers will have a full range of options - from traditional, proven mechanical fixed-function rotary tables to fully flexible servomotor-based rotary tables for use in changing operating environments and applications."
The GTB Series features a roller-gear drive and is a lifetime-lubricated solution that has been designed and engineered to deliver high torque, with high speed and motion flexibility to meet the demanding payload requirements in a wide variety of general industrial rotary table applications. Available in four models - GTB40, GTB63, GTB80 and GTB100 - the GTB units are 34% lower in height and 64% lower in weight when compared to competitive models, while being able to deliver 1.4 times the torque. The units lifetime-lubrication design also eliminates the need for maintenance.
"The new GTB Series rotary tables feature the latest design technologies to produce a very high torque that is comparable to much larger units, but in a very compact size," said Matt Girand, DESTACOs Vice President of Research, Development and Engineering. "In addition, the units can be mounted in both vertical and horizontal orientations, which is a significant benefit since the user does not have to worry about changing the application or purchasing a different unit."
In addition to flexible orientation, each model can support a wide range of off-the-shelf servomotors for maximum motion flexibility and performance. Each size features a direct motor coupling that eliminates backlash, which is a crucial consideration in high-accuracy rotary table applications. An optional gear reducer is available for applications that require increased torque.
For more information about DESTACOs new GTB Series Servo Positioning Rotary Tables, please visit http://www.destaco.com/gtb-servo.html
About DESTACO
DESTACO, a Dover company, is a global leader in the design and manufacture of high-performance automation, workholding and remote-handling solutions. The company serves customers in a variety of end-markets, including the automotive, life sciences, consumer goods, packaging, aerospace and nuclear sectors.
Built on a legacy of more than 100 years, DESTACO offers a comprehensive portfolio of products designed to engineer precise movement, placement and control solutions that drive productivity and uptime for manufacturers around the world. The DESTACO family of products consists of industry-leading brands such as DESTACO Manual and Power Clamps, CAMCO™ and Ferguson™ Indexers, Robohand™ Grippers and CRL™ Manipulators and Transfer Ports.
DESTACO is based in Auburn Hills, MI, and operates globally through approximately 800 employees across 13 locations.
The Dover Corporation is a diversified global manufacturer with annual revenues of $7 billion. The company delivers innovative equipment and components, specialty systems and support services through four major operating segments: Energy, Engineered Systems, Fluids, and Refrigeration & Food Equipment. Headquartered in Downers Grove, IL, Dover trades on the New York Stock Exchange under "DOV."
More information is available at destaco.com and dovercorporation.com.
Featured Product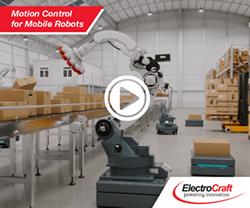 The new MPW86 offers a best in class 500lb per wheel load with speeds of up to 4.3 meters/second. The MPW86 offers powerful starting torque of 35 Nm and 20 Nm continuous. The MPW86 integrated design provides increased performance and reliability at an affordable price compared to traditional motor/gearbox/wheel combinations. The MPW86 is an ideal drivetrain solution for medium to large payload mobile robots and AGVs.