S5 HD, the new version of S5 security robot is now enhanced with video management solution, security guard detection and object recognition is coming soon
SMP Robotics (http://smprobotics.com) a manufacturer of autonomous mobile robots presented the new version of its S5 Security Robot enhanced with video management solution and demonstrated the prototype of the security guard detection and object recognition functionality to 29,000 security professionals at ISC West Conference in Las Vegas in the beginning of April.

The new functionality of the S5 HD Security Robots includes:
Integration with Milestone Systems Video Management solution. The Milestone video management software collects video from the robot built-in cameras and streams to the monitors allowing security officers to view what the video captures.
Security guard detection and object recognition functionality. The users will soon have the option to enhance S5 security robots with NVIDIA Jetson TX2 Module. Al embedded supercomputer can detect the security guard uniforms and distinguish them from the intruders. The prototype of the intruder recognition system was released leading up to ISC West conference. The feature was tested and demonstrated at the INVIDIA ISC West booth. The commercial version will become available in the summer of 2017.
S5 Autonomous Security Robot was presented at ISC West by SMP Robotics distributors Robotic Assistance Devices and WeSecure. Speaking at "How Drones and Video Technology are Redefining Situational Awareness" panel, Steve Reinharz, the founder and CEO of Robotic Assistance Devices (RAD), said: "S5 security robot is fully autonomous, it can operate for roughly 12 hours, covering the distance of 10 miles on a single charge and is programmed to do different things based on time of the day and geo-location, report back to on-site guard or whatever the SLPs are for that particular enterprise. The ability to detect and identify humans and vehicles is taking that degree of autonomy to the next level."
"ISC West demonstrated that the interest in autonomous security robots continues to grow and S5 remains the leader in this segment," said Marina Kahl, VP of Marketing of SMP Robotics. "To remain an industry leader, we must be at the forefront of innovation and SMP Robotics is able to do that thanks to our close working relationships with our distributors. They are an invaluable resource for education, training, information, support and candid customer feedback."
S5 HD Security Robots are available through companys ever growing distributor network. The SMP Robotics has dedicated distributors around the world and thanks to them S5 security patrolling robots are being used by an increasing number of organizations around the world. The company continues to expand its distribution network.
About SMP Robotics
SMP Robotics Corporation is a manufacturer of autonomous mobile robots. Headquartered in California, the company has offices in Europe and Asia. SMP Robotics started to design robots in 2009 and remains a strong player in the space. Today, the company offers more than a dozen models of robots for various purposes, has its own assembly plant, research and development center and large distribution network. SMP Robotics holds more than ten patents in the field of mobile robotics. Companys products are available through distributors in a growing number of markets. For more information, visit: http://smprobotics.com/
Featured Product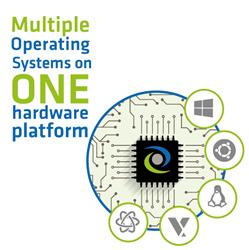 The RTS Hypervisor enables work-load consolidation of both real-time and non-real-time operating systems on a single x86 based platform. Unlike traditional virtualization, we partition and allocate the hardware for each work-load and provide a "privileged" mode for real-time operating systems that guarantee zero impact to determinism while adding zero jitter. This is instrumental for work-loads such as robotic controllers managing motion control where minimum jitter is required. And, our hypervisor is designed for easy setup and configuration for any work-load consolidation scenario. This equates to deterministic real-time applications taking advantage of all the benefits of virtualization immediately, without costly implementation projects.