Engineers, technical experts, business leaders and academics come together in Detroit, Michigan to plan the future of automated vehicles
Engineers, technical experts, business leaders and academics come together in Detroit, Michigan to plan the future of automated vehicles

Detroit is the centre of the American automotive industry, and the region is under a period of strong regeneration and investment. The global automotive sector has undergone a revolution driven by alternative power train and electronics integration. Its a prime location to hold the first US edition of AutoSens (22-25 May 2017), the worlds premier vehicle perception technical meeting.
AutoSens is to be hosted at the M1 Concourse - a unique and memorable venue, incorporating a 1.5-mile racetrack, showrooms and event facilities. Providing the perfect spot for AutoSenss mix of conference and track-side experiences - ideal for petrol heads and self-driving experts alike. The event will attract an international audience; Detroit has excellent transport links for both US and global travellers.
"More than just product marketing - AutoSenss technical conference gets to the heart of challenges in improving image quality for vehicle perception systems"
What's on at AutoSens, Detroit?
Fusing leading academic research, industrial R&D and OEM insights, AutoSens in Detroit is a practical learning tool for engineers as well as a first-class networking experience.
Day One: May 22 - IEEE P2020 Working Group
Official meeting for the IEEE Standards Association Working Group on Automotive System Image Quality - P2020
Day Two: May 23 - Autonomous Vehicle Track Demo and Three 3-hour technical Workshops
• Several autonomous vehicles, featuring an array of sensors, processors and software will be running demo laps of the M1 Concourse track at AutoSens, as well as brief technical overviews by their developers.
• Learning workshops:
o Requirements Management Best Practices: Collaborative Approaches to Improving Traceability and Compliance. Led by Cary Bryczek, Jama Software
o Human Factors Considerations for the Design of Self Driving Vehicles. Led by Michael Nees, Lafayette College
o How to Integrate Mapping & Geolocation Technology into Vehicle Perception. Led by Sravan Puttagunta, Civil Maps
Day Three: May 24 - Conference Day 1 and Vintage Reception at Henry Ford Museum
• 23 keynote-style presentations over 2 days
• Panel discussions
• Extensive networking sessions
• Technology exhibition with over 30 displays
• Classic, sport and exotic car display
Vintage Evening Reception at Henry Ford Museum
This vintage themed evening reception will feature:
• Guided tours in original vintage Ford Model T cars
• Guided tours around the village in autonomous vehicles
• Fully functioning 1913 period Hershell-Spillman carousel with music and unlimited rides!
• Period-themed drinks, strolling dinner and dessert
• Complimentary shuttle-bus travel to and from the museum
Day Four: May 25 - Conference Day 2
The proceedings will close with a second day of conference content featuring the worlds most renowned technical experts covering the latest essential topics in vehicle perception technology.
Why M1 Concourse in Detroit?
M1 Concourse is an 87-acre playground for auto enthusiasts that includes a secure community of 250+ Private Garages and a state-of-the-art 1.5-mile Performance Track with its own private Motorsports Club. M1 is a place where enthusiasts can keep, show and exercise their vehicles in the company of other fanatics and enjoy unforgettable experiences in a social setting unavailable to people who keep their cars at home or in a traditional storage facility.
Within walking distance, the development plans also include an open-air experiential village of auto-focused retail businesses with year-round entertainment programming open to the public, including car shows, concerts, celebrity speakers, product demonstrations and more.
Trail-blazing speakers form the expert line-up
If youre looking for the latest technical insight into vehicle perception challenges, the AutoSens community of engineers can provide the answers.
The latest additions include;
• Joel Gibson, Vice President, Magna Technologies
• Mohan Trivedi, Head of Computer Vision and Robotics Research Laboratory, UC San Diego
• Rudy Burger, Managing Partner, Woodside Capital Partners
• Prof Patrick Denny, Senior Expert, Valeo Vision Systems
• Phil Magney, Founder, Vision Systems Intelligence
"Before cars can be connected, engineers must first connect"
200+ attendees booked
With less than 3 weeks to go before AutoSens lands in Detroit, support for AutoSens has exceeded expectations. Companies attending include GM, Kalray, Valeo, Continental, Daimler, Ford, Intel, Jaguar Land Rover, Panasonic Auto, Robert Bosch, Samsung, Sony, SBD plus many more
For further information, please head to www.auto-sens.com
Featured Product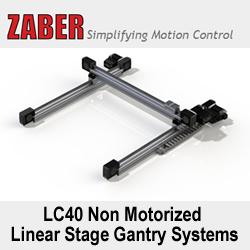 Zaber's X-LRQ-DE Series of linear stages have high stiffness, load, and lifetime capabilities in a compact size. The integrated linear encoder combined with stage calibration provides high accuracy positioning over the full travel of the device. At 36 mm high, these stages are excellent for applications where a low profile is required. The X-LRQ-DE's innovative design allows speeds up to 205 mm/s and loads up to 100 kg. Like all Zaber products, the X-LRQ-DE Series is designed for easy set-up and operation.