No Engineering Degree Required! Now Marketers Can Create Custom Campaigns with Promoter, a Software Solution for Pepper
SAN FRANCISCO, May 1, 2017 /PRNewswire/ -- SoftBank Robotics America (SBRA), the North American arm of SoftBank Robotics Group, today announced the release of the first of several out-of-the box software solutions for Pepper, the humanoid robot. The suite launches with Promoter, a content management solution for marketers, which was developed in partnership with Solstice Consulting. Promoter and all products in SBRA's new software suite will be designed with the non-technical user in mind and will let businesses customize Pepper without the need for expensive technical overhead, development or prowess.

"To ensure accessibility and ease of use, we are developing a new suite of out-of-the-box solutions so anyone can utilize Pepper's capabilities," said Steve Carlin, Chief Strategy Officer at SoftBank Robotics America. "There are still many ways to customize Pepper and create one-of-a-kind customer experiences. Promoter will give businesses a simple solution to easily integrate Pepper into their business and start engaging with their customers in a new way."
"We're excited to be a lead development partner for Pepper and to work alongside SoftBank Robotics on the new promoter software solution," said Andy Whiting, VP of Business Development at Solstice. "With its turnkey approach, Promoter will enable every marketer to produce remarkable customer experiences and to easily integrate Pepper into their marketing mix."
Pepper Promoter Solution Overview:
SBRA's Promoter solution serves as a streamlined, intuitive way for marketers to tap into Pepper's consumer appeal, and manage the robot's interactions with customers to support marketing needs such as brand campaigns, loyalty programs, sales and special offers. To integrate Promoter into a business's customer experience, marketers can simply upload existing campaign assets from anywhere. Once the assets and brand messages are loaded into the Promoter Web App, the user launches the content and a complete campaign is instantly communicated via Pepper. In addition to the personalization Promoter will offer marketers, it will come installed with predefined animations for Pepper that can be used for even deeper engagement with customers or to reward them for their time spent with Pepper and the brand.
Promoter will also offer simple tools to measure and analyze campaign conversion and other metrics. Pepper bridges the online to offline gap that today's marketers struggle to connect by using text messages to drive traffic back to websites or mobile apps once customers enter a phone number on Pepper's interface. Additionally, Pepper can qualify a shopper and recommend products based on gender, age or even the customers' mood or emotional response. Pepper can then deliver a sales or marketing message in a repeatable and engaging way, leaving shoppers with a rewarding and memorable interaction.
First Adopter: C Spire
C Spire, a Mississippi-based telecommunications and technology services company, is one of SBRA's first adopters for the Pepper Promoter solution.
The company, which operates the nation's largest privately held mobile services unit and the 6th largest in the U.S., serves over 1 million customers, providing an array services including voice, data and Internet access as well as a suite of IP Voice and cloud services to consumer, business and government users.
"As a company that gets its inspiration from our customers, we're excited to partner with SBRA to usher in a new era of technology innovation through robotics, artificial intelligence and machine learning," said C Spire President Stephen Bye.
Bye said C Spire anticipates using Pepper in its retail, marketing, and customer service operations to help improve consumer awareness, drive engagement and increase interest in company products, services and programs. "This is the next great technology frontier," he added.
Interested retailers can begin reserving Peppers starting July 2017 with packages starting from $25,000. To learn more about SBRA and package options, visit http://www.softbankrobotics.com.
SBRA will be showcasing Pepper at this year's Collision conference in New Orleans, May 2-4. During the show, attendees and media will be able to demo Pepper's new Promoter capabilities and see first-hand the business opportunities Pepper will bring to the U.S. market. Please be sure to make an appointment to visit SBRA and Pepper during Collision.
About SoftBank Robotics America
Headquartered in San Francisco, California, SoftBank Robotics America (SBRA) is driving technology forward by becoming a leader in humanoid robotics. Our robots, including Pepper and NAO, are used in more than 70 countries worldwide and offer innovative use cases relevant for the fields of retail, financial services, healthcare, travel, and hospitality. Formerly Aldebaran Robotics, SBRA's sister offices remain in Europe, Japan and China under the new SoftBank Robotics Group.
Pepper, NAO, Aldebaran and SoftBank Robotics are trademarks of SoftBank Robotics in the US and other countries.
About Solstice
Solstice is an innovation and emerging technology firm that helps Fortune 500 companies seize new opportunities through world-changing digital solutions. As strategists and consultants, we help organizations evolve their digital strategy to solve mission-critical problems. As designers and developers, we build incredible hardware and software solutions that transcend a standalone product and transform an organization's relationship with its customers. As instructors and coaches, we help companies transform from the inside out by adopting a high-speed culture of innovation. We're strategists, researchers, designers and engineers hell-bent on changing the way the world does business. We're headquartered in Chicago and have delivery offices in New York, London, and Buenos Aires. For more information, visit www.solstice.com.
About C Spire
C Spire is a diversified telecommunications and technology services company that provides premium experiences designed specifically for its customers, including wireless communications, high-speed Internet access and a range of other telecommunications products and services to consumers and businesses. This news release and other announcements are available at www.cspire.com/news. For more information about C Spire, visit www.cspire.com or follow us on Facebook at www.facebook.com/cspire or Twitter at www.twitter.com/cspire.
Featured Product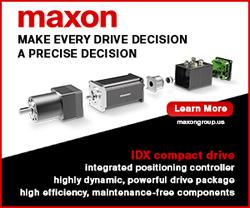 Discover the world of drive technology from a leading worldwide supplier of innovative customized drives. - Manufacturer of brushed and brushless DC motors, gearheads and motion controllers - Custom drive systems, quantities as low as a single unit - Certified for aerospace and medical applications