Company Launches Kickstarter Campaign to Fund Unique STEM-Teaching Tool
New York—May 10, 2017—Robotics and open source hardware provider DFRobot today announced the launch of Boson Kit, the first coding-free set of modular electronic building blocks designed for young inventors and teachers. Created as a hands-on tool for STEM education in the classroom and beyond, Boson Kit is compatible with Legos, magnets, screws and Velcro, using its Internet of Things (IoT) module to allow everyday innovations to come to life. It is also fully compatible with Scratch, allowing all users, from beginners to advanced, to unlock the capabilities and unique AI features of Intel® Curie™ through an easy-to-use design. DFRobot today also launched its Kickstarter campaign to raise over $37,443 [£30,000] for continued product development.

Boson Kits distinction is its coding-free functionality, providing users with an applied experience without the complexity of programming prior to use. The tool contains more than 50 different modules with varying functions, letting creators build a variety of inventive gadgets. Boson Kit also has a smart vision sensor allows for the creation of advanced robots that recognize faces, follow people, track drawn lines and find and fetch balls.
With Boson Kit, users can:
• Develop skills: Students and teachers alike can use the tool to cultivate STEM education by learning about sensors and circuit logic in a straightforward, visual way
• Build anything: Boson Kit can be attached to everyday materials like wood, fabric and Legos to create Internet-connected devices. The opportunities to innovate are endless - ranging from adjustable lamps with rotation sensors, to remote-controlled thermostats to electronic pet feeders to human-tracking robots
• Learn by doing: Users of all levels can learn to build IoT devices by experimenting with the Intel® Curie™ platform that Boson Kit is based on. It is also fully compatible with Scratch. Additionally, students can learn advanced features such as Bluetooth 4.0, gesture control and more
• Classroom enhancement: Attach the magnetic modules onto a whiteboard to visually demonstrate experiments to students
"We believe in the power of creating easy-to-use tools that bring ordinary objects to life," said Ricky Ye, CEO, DFRobot. "The possibilities are truly endless with Boson Kit, and it doesnt require a complicated set-up process to get going. Everyone from elementary students first delving into the STEM world, to more advanced inventors, to teachers can use these building blocks with ease to create nearly anything from the ground up. The tool provides a hands-on educational experience that allows for imagination and innovation - two aspects of the learning process that are vital at any age, but especially with young people."
DFRobot is committed to creating products that foster STEM education. In addition to Boson Kit, DFRobot offers other tools like Gravity Kit and Beginner Kit for Arduino. The companys full suite of STEM education products can be seen here.
About DFRobot
DFRobot is a robotics and open source hardware provider that is dedicated to creating innovative, user-friendly products that foster a strong community of learning. DFRobot collaborates with multiple tech giants including Intel and Microsoft and has a product catalog boasting over 1,000 components and widgets including sensors, robotic platforms, communication modules and 3D printers. DFRobot is one of the early evangelists of the Maker Movement and strongly supports greater access to the maker culture.
DFRobot is headquartered in Shanghai, China. For more information visit www.dfrobot.com.
Featured Product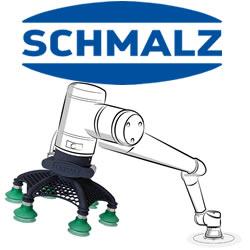 In order to interact with their environment and perform the tasks, lightweight robots, like all industrial robots, depend on tools - and in many cases these are vacuum grippers. These form the interface to the workpiece and are therefore a decisive part of the overall system. With their help, the robots can pick up, move, position, process, sort, stack and deposit a wide variety of goods and components. Vacuum gripping systems allow particularly gentle handling of workpieces, a compact and space-saving system design and gripping from above. Precisely because the object does not have to be gripped, the vacuum suction cupenables gapless positioning next to each other.