ELKHART, INDIANA - Today at the grand opening of Furrions Innovation Center and Institute of Technology (ICIT) campus, Furrions Prosthesis, the worlds first exo-bionic racing mech, will take its first steps. While at first glance, it looks like an intimidating robot, Prosthesis is actually a responsive, stable and powerful human-controlled exo-bionic platform that amplifies the motions of the pilot. Prosthesis is the first machine of its kind, ushering in a new era of large scale, high-performance mech technology. It represents a departure from conventional, human scale exo-bionics, integrating off-road racing technology with industrial motion control to produce an entirely new breed of machine. Debuted at the Consumer Electronics Show in January, today marks the second phase of development which is pilot training. At the grand opening, Prosthesis will be demonstrated by its creator and first pilot, Jonathan Tippett the Co-Founder and CTO of Furrion Robotics.

"Prosthesis is the first innovation of our robotics division and we are excited about the potential the future holds," said Matt Fidler, co-founder and chief marketing officer of Furrion. "Jonathans concept started ten years ago as an art project trying to build a machine that you could walk with. From there the idea grew to develop a brand new human skill (mech racing) that would explore the relationship between man and machine. We think athletes will be excited about the challenge of the new mech racing category and are proud to be the innovators of a new sport."
Prothesis stands at nearly 15 feet tall, 18 feet wide and weighs more than 8,000 pounds. As the flagship competitor in mech racing, Prothesis will eventually be able to run up to 21 mph, jump over obstacles and run for up to 2 hours on a single charge. The frame is made out of chromoly steel, a high-performance alloy used in sports and aerospace. Both durable and agile, it is capable of tackling any terrain.
"Mech racing will be unlike anything anyone has ever seen before," said Tippett. "We feel this is a sport whose time has come. People have been dreaming of large-scale, high performance exo-bionic machines for decades and were excited to have the worlds first. While the mech started as my dream, it would not have been possible without the support of the eatART Foundation, our academic partners, corporate donors, countless volunteer hours and of course the team here at Furrion Robotics. The mech will live here in Elkhart and we will continue to train over the summer. We will work to advance its speed and agility because as you can imagine, it takes hundreds of hours of training and practice to get a 8,000 pound mech to move as one with the pilot!"
Prosthesis represents the inception of a new, large scale exo-bionic technology platform with an exciting future ahead. Furrion believes the future belongs to electric power systems, and we are committed to being leaders in the development and application of that technology in conjunction with Furrions Net-Zero platform. With that in mind, the mech was designed to be 100% electric powered. It will also be outfitted with Furrions Vision S observation camera systems for safety and a secondary vantage point. Prosthesis is just the first product from the Furrion Robotics division with more to come. Furrion will continue to innovate with the creation of smaller and more agile mechs allowing the racer greater flexibility and eventually a production model that athletes can purchase for mech racing. Furrion Robotics is a research initiative focused on the development of large scale, high-performance exo-bionic technology. Furrion Robotics is pioneering a new breed of human-piloted, electric-powered mechs.
About FURRION
Furrion (www.furrion.com) is a global technology conglomerate that focuses on developing products and services that enhance consumer lifestyles. Its diverse business includes consumer and professional electronics, home appliances, specialty appliances, renewable energy, automotive navigation, information technology, power management systems and electrical components. Since the company was founded in 2005, Furrion has become the leading supplier of luxury products to the marine, recreational vehicle, specialty vehicle, hotel, residential and adjacent specialty industries with more than 150 percent year-over-year growth for the past eight years.
Featured Product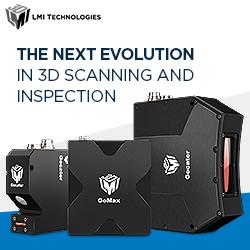 Every robot needs eyes to see, think, and do. Gocator® 3D smart sensors add powerful vision-guidance and inspection capability to industrial robots. You can use these sensors in a wide variety of factory automation applications. Pair them with scara, delta, and collaborative robots to create complete robotic solutions that deliver high-performance 3D results in vision-guidance, quality control inspection, and automated assembly with smart pick-and-place. Make your robot FactorySmart® with Gocator 3D smart sensors.