Nation's first stationless bikeshare company plans rapid expansion across U.S. cities with goal to build one of the largest dockless bikeshare fleets in the world
SAN FRANCISCO, May 25, 2017 /PRNewswire/ -- Spin, the first company to debut the stationless bikeshare concept in America, today announced an $8 million Series A funding round led by Menlo Park-based Grishin Robotics with participation from Exponent and CRCM, along with Quora co-founder Charlie Cheever and Dropbox investor Matt Brezina. Spin will use the funding to accelerate hiring, expand deployment of its smart bikeshare system across several U.S. cities, and build one of the largest dockless bikeshare fleets in the world.

"Spin makes navigating around cities smarter, better and more equitable for everyone," said Spin co-founder and CEO Derrick Ko, formerly of Lyft. "Our smart stationless bikeshare system acts as a natural complement to rideshare systems, and won't cost cities a penny. We are thrilled to join Grishin's portfolio, and look forward to rolling out our stationless bikeshare across several American urban centers in a meaningful way."
Spin's orange-colored smart-bikes are located via the Spin app, unlocked and taken for a ride by simply scanning a QR code. Designed in California, the bikes are equipped with GPS, cellular connectivity, solar panels, and solid tires that are designed for durability. Unlike traditional bikeshare systems, Spin's technology requires no fixed or specialized racks and allows bikes to be parked anywhere that is legal and responsible. At just $1 a ride, Spin offers riders a flexible, equitable, and convenient mode of transport.
"Technology and hardware will play a big part in improving last mile transportation in the face of urbanization," said Dmitry Grishin, Founding Partner of Grishin Robotics. "We're impressed with Spin's approach of tackling this with stationless bikeshare, and the team's vision of building networks of connected last-mile vehicles." Spin joins Grishin Robotics' portfolio of innovative Internet-of-Things and robotics companies, including Ring, Zipline, eero and Starship.
Spin plans to build one of the largest mobile IoT and urban transportation infrastructure deployments in the world. "We'll use this round to grow our supply chain, improve our hardware, and assemble a talented technical team to track and manage our bikeshare fleet at scale," said Spin CTO and co-founder Zaizhuang Cheng, formerly of Disqus.
Spin also runs the Spin Cities Project, an initiative to fund smart urban infrastructure, bike safety and awareness programs, and provide cycling data to communities. The Project's first initiative is to fund bike safety in Seattle, where Spin plans to launch this summer. In addition to an initial investment, Spin will contribute a portion of ride revenue to continually fund the Project.
"Our approach to bikeshare is unique in that it requires no public funding. Unlike competitors that enter U.S. cities without permission, Spin is dedicated to working closely with cities to establish clear procedures for permitting and a pathway to success that benefits both cities and riders," said Spin co-founder and President Euwyn Poon, a former lawyer at Simpson Thacher & Bartlett and two-time Y Combinator alumnus.
About Spin
Spin helps people move around in cities by offering a convenient, affordable, and environmentally-friendly mode of last-mile transportation. Its fleet of GPS-equipped, orange-colored smart-bikes can be unlocked by scanning a QR code, and can be dropped off at any existing bike parking spots, all at no cost to cities. Spin is also committed to improving urban living via the Spin Cities Project, which funds local bike infrastructure programs. Spin is a Series A venture-backed company based in San Francisco, founded by Lyft, Disqus, and Y Combinator alumni. To learn more visit https://spin.pm
About Grishin Robotics
Founded in 2012, Grishin Robotics is one of the leading venture firms to focus exclusively on hardware and robotics companies, investing out of its second $100M fund. The firm's investments include Ring, Zipline, eero and Starship and is located in Menlo Park, California. http://www.grishinrobotics.com
About CRCM
CRCM is a Silicon Valley-based venture firm that invests in early-stage companies in diversified sectors, including healthcare, enterprise, consumer, financial technology, media, and telecommunications. Prior investments include Youku and musical.ly. http://www.crcmvc.com
About Exponent
Exponent is a venture firm founded by Y Combinator alumni that invests in and grows early-stage technology companies. The firm is backed by the Yifang Group, shareholders of the Wanda Group, and its investments include Plushcare, Grubmarket, Hush, Zeus, and Paperspace. http://www.exponent.vc
Featured Product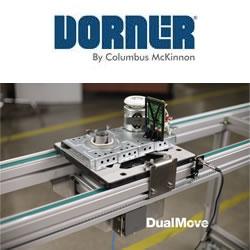 Dorner's 2200 Series Precision Move Pallet Systems are ideal for assembly automation. With features such as an innovative timing belt conveyor design and industry best pallet transfers, they get your product to the exact location, at the exact time and in the exact position it needs to be. They are now available with new options such as heavy load corner modules with 150 lb. capacity and 180 degree tight transfer corners for compact loops.