The companys new "Education Bundles" introduce educators to the most innovative robotics platform on the market today.
ONTARIO, CANADA, May 31, 2017 - Furthering its commitment to introduce and support the integration of innovative technology into K-12 classrooms, Advanced Education today announced that it has been named an authorized provider for EZ-Robot and its Revolution Robot Kits, a groundbreaking new platform that encourages students to build and program their own robots. The appointment, which encompasses the entire suite of EZ-Robot products, also includes the introduction of Advanced Educations "Educational Bundles" that equip administrators with all the components they need to fully utilize the platform.

"Virtually every school district is implementing a robotics program or curriculum, but that doesnt necessarily mean that they are satisfied with whats available today. The EZ-Robot platform is simple enough to meet the needs of todays early learners, but powerful enough to 'scale up for those educators looking for a more advanced curriculum," Advanced Education Executive Vice President Mark McPherson said today. "EZ-Robot is redefining how students interact with technology. It takes the most up-and-coming technologies in the industry - like vision tracking and learning, mobile apps, speech recognition, artificial intelligence, 3D printing and more - and makes them accessible for students to experiment with. We are proud to help bring this technology to schools throughout Canada."
To facilitate the needs of todays school robotics programs and to accommodate curriculum requirements, Advanced Education has introduced its new "Education Bundles," which include three robots, a variety of connectors and adaptors, spare servos, and an ultra-sonic distance sensor. "It may seem daunting for schools to experiment with new technology that requires a significant amount of equipment," McPherson commented, "but our 'Education Bundles are designed to minimize cost and maximize efficiency. We want to make it easy for both students and educators to utilize the tools available to them today."
The EZ Robot Revolution platform features simple clip'n'play robot building blocks - called EZ-Bits - that are user-controlled, or autonomously programmed, over a WiFi connection from a students PC or mobile device. Each EZ-Robot includes built-in cameras and speakers that can support GPS, ultra-sonic distance sensors, infrared sensors, and augmented reality glasses.
Once assembled, an EZ-Robot enables the implementation of cutting-edge technological features such as vision tracking and learning, mobile apps, speech recognition, artificial intelligence, 3D printing, and hundreds more. Each EZ-Robot can be programmed by new users with the visual interface, or through traditional real-world programming using C++, C# and Visual Basic. Additionally, students can download the EZ-Robots free software on their home computer to allow them to work on their robot projects at home. All EZ-Robots be controlled with Wii remotes, Xbox 360 controllers, joysticks, Android and iPhones, tablets, computers, augmented reality glasses, or by voice.
About Advanced Education
Advanced Education is at the forefront of the educational revolution by introducing and supporting the integration of interactive technology into classrooms throughout Canada. Advanced assists with any type of integration solution from a single projector or interactive displays to technology plans for an entire school district. Representing leading manufacturers such as SMART, Hitachi, Copernicus and FrontRow, Advanced Education provides full technology solutions including consulting, professional development and installation services. To learn more visit www.advanced-education.com.
Featured Product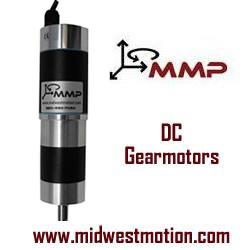 Midwest Motion Products, Inc. (MMP), is a well-established, healthy, & growing Family Owned Business, founded in 2001. MMP specializes in cost-effective standard DC Gearmotors, Motors, Controls, and ancillary equipment. Known world-wide for our "Lightning Fast" delivery capabilities, you can have a Standard Planetary or Right Angled DC Gearmotor BUILT and SHIPPED, often on the very same day you call. Offering Brushed and Brushless designs, with winding voltages ranging from 12 VDC to 120 VDC, we can deliver your "Robust & Reliable" samples within HOURS, instead of weeks, or even months.