RVT, a leader in vision software for industrial applications, has been integrated into Universal Robots cobot arms to demonstrate precise pick-and-place items off a conveyor in 2.5D and onto a movable tray in 3D.
NEW YORK, N.Y. (June 7, 2017)—Robotic VISION Technologies Inc. will be a co-exhibitor June 13-15, 2017 with the worlds largest collaborative robot maker Universal Robots. RVT will be demonstrating its new collaborative 3D vision guidance software on a Universal Robot UR5. The 3D cobot packaging solution can be seen at EastPack ATX 2017 in East Booth 2529 at the Jacob K. Javits Convention Center.

RVT, a leader in vision software for industrial applications, has been integrated into Universal Robots cobot arms to demonstrate precise pick-and-place items off a conveyor in 2.5D and onto a movable tray in 3D. The ground-breaking system will be shown selecting parts from a conveyor, reorienting them, and precisely placing them in a movable tray. The vision system can also find pieces that are stacked two or three high randomly. This solution remedies the problematic issue of an unorganized packaging operation when trays or pallets are not precisely placed for the robot to blindly pick or pack.
The emergence of collaborative robots expands the marketplace for robotics because of lowering robot costs and increasing productivity with the ability to work safely alongside human workers. RVT, with its collaborative VisionFactory® (cVF®) product, is strongly positioned to offer many vision solutions in the collaborative space for all major robot brands.
RVT made its cVF debut on a Universal Robots UR5 controlling an OnRobot RG2 gripper at Automate 2017 held April 3-6 in Chicago.
"Were extremely pleased to be invited by Universal Robots to co-exhibit at the EastPack 2017/ATX East show," RVT Founder and Chief Executive Officer Rick Weidinger said. "We had a very successful show at Automate, bringing much interest in our new collaborative vision software."
RVTs cVF is available for license and will begin deliveries to users in July, 2017.
"Were enthused by the response," Weidinger said, "and were looking forward to demonstrating it again with Universal Robots in New York City."
For additional information, go to www.RoboticVISIONtech.com.
About Robotic VISION Technologies Inc.
Robotic VISION Technologies Inc., a privately held machine vision software company, is a recognized leader in the field of Vision Guided Robotics (VGR). eVisionFactory® (eVF®) and its new collaborativeVisionFactory (cVF) are the brand names of RVTs 2D, 2.5D, and 3D vision guidance software suite that allows robots to "See, Think, and Do." RVTs software and technologies enable image recognition, machine vision, machine learning, and robot guidance processes in industrial and non-industrial markets. RVTs main 3D vision solution features the Henry Ford Technology Award-winning single-camera 3D software product in addition to its proprietary validation tools - AutoCal™, AutoTrain™ and AccuTest™. RVT has also won the prestigious BAE Systems Chairmans Award for its technology and governmental work efforts. A sample of customers using RVTs products include Ford, General Motors, Chrysler, Honda, Toyota, Nissan, Harley-Davidson, Boeing, and Johnson & Johnson. RVTs eVF® software platform is installed in hundreds of systems worldwide and operates every day controlling over one-half billion dollars of capital equipment. RVTs Technology Center & Robotic Lab is in Silver Spring, Maryland. RVT has secured agreements with Intellectual Ventures for invention growth and selected integrators for field support. RVT was recently designated as a Certified System Integrator for Universal Robots.
About Universal Robots
Universal Robots was co-founded in 2005 by the companys CTO, Esben Ostergaard, who wanted to make robot technology accessible to all by developing small, user-friendly, reasonably priced, flexible industrial robots that are safe to work with. Since the first robot was launched in 2008, the company has experienced considerable growth with the user-friendly robots now sold in more than 50 countries worldwide. The company, which is part of Teradyne Inc., is headquartered in Odense, Denmark, and has subsidiaries and regional offices in the USA, Spain, Germany, Italy, Czech Republic, China, Singapore, India, Japan, Taiwan and South Korea.
Featured Product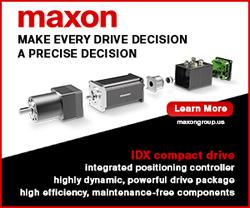 Discover the world of drive technology from a leading worldwide supplier of innovative customized drives. - Manufacturer of brushed and brushless DC motors, gearheads and motion controllers - Custom drive systems, quantities as low as a single unit - Certified for aerospace and medical applications