Ruling Cites Wealth of Evidence, Data to Confirm Exoskeleton Technology No Longer Experimental
MARLBOROUGH, Mass. and YOKNEAM ILIT, Israel, June 12, 2017 /PRNewswire/ -- ReWalk Robotics Ltd. (Nasdaq: RWLK) ("ReWalk"), leading manufacturer of exoskeleton systems, today announced a Florida court ruling that found Blue Cross Blue Shield of Florida must provide coverage of a ReWalk exoskeleton system for a plan member with a spinal cord injury ("SCI"). This court decision is the latest of several in the United States that have ruled in favor of the individual after original denial of claims by commercial insurers.

Following an extensive formal evidentiary hearing, the State of Florida Division of Administrative Hearings held that there is "persuasive evidence", including current clinical studies and medical literature that show "exoskeletons (including the ReWalk) are no longer 'experimental or investigational.'" The judge's finding was echoed by a medical expert whose testimony determined exoskeleton technology for spinal cord injured individuals meets a common standard of medical practice. In ruling for coverage for this individual, the Judge concluded:
"…. the ReWalk and other exoskeleton devices have been studied extensively. They have been tested in different environments and on many different individuals. They are already used extensively even as testing continues."
ReWalk CEO, Larry Jasinski said, "The recent Florida ruling is significant and consistent with the growing body of established scientific data that supports the value of exoskeletal walking. We are encouraged by the chorus of experts who are supporting paralyzed individuals in their appeals processes, and heartened by the trend of coverage rulings that continues to increase in states across the U.S. It is our fervent hope that insurance companies will stop this arduous process of appeals and formulate standard operating policies for coverage of all eligible SCI plan members."
In over 80% of appeals decided, independent experts have ruled in favor of coverage. As of the end of Q1 2017, 86 paralyzed SCI individuals who wanted the right to be able to walk again have been approved for insurance coverage. There are now 49 scientific papers analyzing exoskeletons and a peer-reviewed detailed meta-analysis of a large subset of studies.
The data that supported ReWalk's 2014 FDA clearance—the first-ever for an exoskeleton for those in the SCI community—included 756 sessions on a range of surface finishes and in multiple environments with no incidents of falls or clinical issues. These environments included: crossing at streetlights, homes, stores, restaurants and offices. In 2015, the Veterans Administration issued a standard operating policy for procurement of any eligible retired service member who qualifies for home use of a ReWalk system.
"We will continue to advocate for the rights of the disabled in providing them technology that can enable them to walk again and enjoy the demonstrated health benefits that occur with use of the device," Jasinski added.
About ReWalk Robotics Ltd.
ReWalk Robotics Ltd. develops, manufactures and markets wearable robotic exoskeletons for individuals with spinal cord injury. Our mission is to fundamentally change the quality of life for individuals with lower limb disability through the creation and development of market leading robotic technologies. Founded in 2001, ReWalk has headquarters in the U.S., Israel and Germany. For more information on the ReWalk systems, please visit www.rewalk.com.
ReWalk® is a registered trademark of ReWalk Robotics Ltd. in Israel.
Featured Product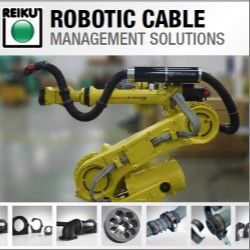 REIKU's Cable Saver™ Solution eliminates downtime, loss of revenue, expensive cable and hose replacement costs, maintenance labor costs. It's available in three sizes 36, 52 and 70 mm. All of the robots cables and hoses are protected when routed through the Cable Saver™ corrugated tubing.The Cable Saver™ uses a spring retraction system housed inside the Energy Tube™ to keep this service loop out of harms way in safe location at the rear of the Robot when not required. The Cable Saver™ is a COMPLETE solution for any make or model of robot. It installs quickly-on either side of the robot and has been tested to resist over 15 million repetitive cycles. REIKU is committed to providing the most modular, effective options for ensuring your robotic components operate without downtime due to cable management. www.CableSaver.com