CMO Karen Leavitt to speak on autonomous, collaborative robotics in the warehouse
WILMINGTON, Mass., June 13, 2017 /PRNewswire/ -- Today, Locus Robotics (www.locusrobotics.com), the award-winning autonomous warehouse robotics company, announced that the Company's chief marketing officer, Karen Leavitt, will be speaking at eft's 15th Annual North American 3PL & Supply Chain Summit, held from June 14-16th, 2017 at the Radisson Blu Aqua in Chicago, IL.

Ms. Leavitt, who brings more than thirty years of technology industry experience, will lead a session entitled, "Industry 4.0 and the Warehouse: What Happens After the Click?" In this informative session, she will discuss the "magic" of what happens after customers make a purchase online and how autonomous, collaborative robots are working alongside workers to deliver greater productivity and accuracy in each picking fulfillment to support the growing $350 billion e-commerce industry.
ABOUT LOCUS ROBOTICS
Locus Robotics transforms your productivity without transforming your warehouse. Locus's innovative, autonomous robots work collaboratively alongside workers, helping them pick 2x-5x faster, with near-100% accuracy, and less labor compared to traditional picking systems. This proven, powerful technology integrates easily into existing warehouse infrastructure without disrupting workflows. For more information visit www.locusrobotics.com.
ABOUT EFT'S 3PL AND SUPPLY CHAIN SUMMIT IN NORTH AMERICA
The 3PL and Supply Chain Summit is North America's largest senior-level gathering of logistics and supply chain executives. With over 700 senior supply chain and logistics executives in attendance and some of the world's best speakers, the forum is a can't miss event for supply chain leaders. For more information about the 3PL Summit, please visit: http://events.eft.com/3pl/.
Featured Product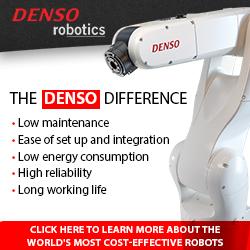 DENSO is the world's largest manufacturer - and user - of small assembly robots, employing over 17,000 of its robots in its own facilities. Over 77,000 additional DENSO robots are used by other companies worldwide. The compact, high-speed robots are used in traditional manufacturing sectors, as well as in advanced-technology applications in the medical, pharmaceutical and life sciences industries. Learn more about DENSO Robotics