Smart Home, Healthcare and IoT Applications among Most Popular in a Worldwide Challenge to Create Content with Fully Programmable, Raspberry Pi-enabled 3D Sensor
Vayyar Imaging (http://vayyar.com), the 3D-imaging sensor company whose technology makes it possible to see through objects, has announced the winners of its "Power to the Makers" contest, a worldwide competition challenging makers to create consumer apps with its fully programmable, Raspberry Pi-enabled 3D sensor, Walabot. Creators cast submissions on Hackster, with the applications falling into the Smart Home, healthcare and IoT categories. The list of winners and noteworthy applications can be found below. A video of the winning applications is here.

● [WINNER! BEST OF UNITED STATES] Tracking TV Stand: uses a Walabot to angle a monitor at the optimal angle for viewing depending on the audience in the field of view.
● [WINNER! BEST OF EUROPE] WalabotFX, Guitar Control: explores what it would be like to control musical expression using nothing but the position of your guitar in 3D space
● [WINNER! BEST OF CHINA] Vehicle Rear Vision: aims to reduce the number of backup collision fatalities by providing older cars with rear vision cameras.
● WalaBreath: a completely wireless assistive device for people with paraplegia that converts their breath into audible speech built on Python.
● Walabot Wheelchair: An early alert system for wheelchair users to avoid collisions.
● Wireless Gas Sensing: A compact wireless gas sensing system for real-time ammonia. detection Train Me: Shape your dance moves and turn yourself into a good dancer by training under a digital dancing coach.
● Bedbug and Termite Detection: My Pest Control company will field test a Walabot under a variety of conditions to develop proper techniques and efficacy for detection.
● NICU Sleep Monitoring: uses Walabot's contactless radio frequency sensor to monitor neonates in the intensive care unit (NICU).
● People Fall Detection: this system can detecting up to five stationary people and determine if someone has fallen.
See and play with all the open source projects here.
How Walabot Works
Walabot is a programmable 3D imaging sensor that sees through objects using radio frequency technology that breaks through known barriers, bringing highly sophisticated sensing capabilities to your fingertips. The device senses the environment by transmitting, receiving and recording signals from multiple antennas. The broadband recordings from multiple transmit-receive antenna pairs are analyzed to reconstruct a three-dimensional image of the environment. This opens the possibility to develop apps for Walabot in many fields including 3D imaging through solid objects, target tracking, breath detection and much more.
About Vayyar
Vayyar Imaging is changing the imaging and sensing market with its breakthrough 3D imaging technology. Vayyars exclusive sensors quickly and easily look into objects, analyze the makeup of materials and track changes and movements - bringing highly sophisticated imaging capabilities to your fingertips. Our goal is to help people worldwide improve their health, safety, and quality of life using mobile, low-cost, and safe 3D imaging sensors. Vayyars award-winning technology is currently being used by top Fortune 500 companies and has expanded into multiple industry sectors, including construction/DIY, Smart Home applications, agriculture, robotics, AR and VR, automotive, personal health and IoT.
Located in Israel, Vayyar Imaging is a privately held company backed by Walden Riverwood, Battery Ventures, Bessemer Venture Partners, Israel Cleantech Ventures (ICV) and Amiti Ventures. Follow @VayyarInc and @Walabot on Twitter, like us on Facebook or learn more at http://vayyar.com.
All trademarks contained herein are the property of their respective owners.
Featured Product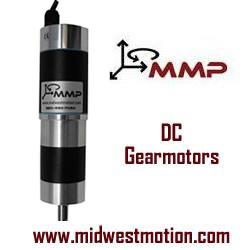 Midwest Motion Products Inc., based in Howard Lake, Minnesota, is pleased to announce the release of the new "GRA52" Right Angled Gearmotor System. This new 1:1 Right Angled Gearbox allows for significantly increased versatility, and design whose geometry allows for the unit to be mounted in tight spaces. We employ our Standard Brushed or Brushless DC Motors and Planetary Gearheads to complete the new R/A Design. Features/Benefits: Cost effective design - as low as $250*, Very Versatile - Output Ratios ranging from 3.7:1 to 2076:1, Fully Reversible Design, Readily available - Samples can be built from Stock Material, High Volume capacity.