These new gauges with adjustable red-and-green-zone dial faces standardize the visual cues for compressed air systems and offer maximum visibility of red zone pressure or vacuum conditions.
HAUPPAUGE, NY, July 18, 2017 — The vibrant and adjustable red/green zone dial face on the new pressure and vacuum gauges from Festo provide an exceptional visual cue when a pressure or vacuum system is out of green-zone operation. Red/green zone dial-face adjustability allows a unified visual warning system to be applied across a broad range of processes for more uniform and quicker recognition of issues. Festo designed these new gauges to be the most visible and easily understood on the market today.

How the gauges work
Red indicator bands on the high and low end of the green zone are easily adjusted to delineate the upper and lower boundaries of safe operation for each pressure or vacuum system the gauge is applied to. The visually impactful red band, covering the entire out-of-specification zone on the dial face, makes deviations from acceptable conditions easy to see. This type of simple to understand monitoring/warning system is ideal for all personnel, including those new to the plant.
Gauges feature dual displays: Psi/bar for pressure; bar/InHg for vacuum. Various pressure range gauges are available with the maximum pressure at 150 psi/10 bar. The maximum for vacuum is -1 bar/30InHg. Apply these red/green-zone pressure and vacuum gauges to inert gases. Operating temperatures range between -40°F (-40°C) to 140°F (60°C). Gauges can be ordered with either NPT or BSPT pneumatic connections and with back or bottom mounting position.
For more information on these new Festo pressure and vacuum gauges, call 800-993-3786 and visit www.festo.us for the full scope of Festo automation solutions.
###
About Festo
Festo is a leading manufacturer of pneumatic and electromechanical systems, components, and controls for process and industrial automation. For more than 40 years, Festo Corporation has continuously elevated the state of manufacturing with innovations and optimized motion control solutions that deliver higher performing, more profitable automated manufacturing and processing equipment.
Connect with Festo: Facebook, LinkedIn, Twitter and YouTube
Featured Product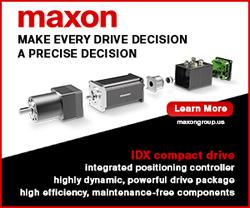 Discover the world of drive technology from a leading worldwide supplier of innovative customized drives. - Manufacturer of brushed and brushless DC motors, gearheads and motion controllers - Custom drive systems, quantities as low as a single unit - Certified for aerospace and medical applications