SMi Reports: Lockheed Martin CDL Systems to showcase UAV's technologies aim at promoting collaboration and information sharing at SMi's UAV Technology Central & Eastern Europe, 27-28th September
In an increasingly high threat environment, nations must learn to work together to ensure strong and ready alliances. Data sharing is an instrumental component for this collaboration and can assist in fostering relationships and improve overall know-how.

In a drive to promote information's sharing, Lockheed Martin CDL Systems are providing software support systems for UAV platforms which are used to control, monitor, process and disseminate the large data that are collected. These technologies allow defence forces to easily create actionable intelligence that can be shared amongst allies.
Speaking at UAV Technology Central and Eastern Europe this September, Lockheed Martin CDL Systems' John Molberg, will provide in depth details about these support systems and explain how they can help nations to work together. John will explain how interoperability can be a force multiplier and how training can be minimised by making ground stations common. He will also discuss how these UAVs technology can be used to interpret big data and share amongst allies.
Other topics discussed will include:
• National capability developments updates from US Army Europe and Canadian Army
• Discuss future requirements, latest procurement and development plans from nation such as the Czech Republic, Estonia, Slovenia and Macedonia Armed Forces
• Explore the use of UAV for reconnaissance and surveillance
• A spotlight on UAV technology featuring the German Armed Forces' role in the development of Heron TP
Other notable presenters include: Bundeswehr, Canadian Army, Czech Armed Forces, Czech University of Defence, Estonian MoD, Formion SA, Istituto Italiano di Tecnologia, Latvian MoD, Lockheed Martin Canada CDL Systems, Macedonian Army, Ministry of Transport Czech Republic, NSPA, Oak Ridge National Laboratory, PA Consulting, Slovenian MoD, Swedish Defence University, US Army Europe and much more…
In addition, the conference also features an exclusive pre-conference workshop on "Proposal of UAS Training Programs for Territorial Defence Forces" hosted by Justyna Zdanowska, President, GEO-UAV taking place on the 26th September 2017.
The workshop provides an overview of activities concerning market development of emerging new types of trainings for UAS operators in Poland. It includes proposals, actions that have already been taken and tendencies related to both trainings and technology that might be possibly involved in the development of UAS trainings for units of Defence Forces.
Further information is available at online at: http://www.uav-technology.org/roboticstomorrow
UAV Technology Central and Eastern Europe
27th-28th September 2017
Hotel International, Prague, Czech Republic
http://www.uav-technology.org/roboticstomorrow
Media: contact Theresa Chung on tchung@smi-online.co.uk
Booking: Contact Andrew Gibbons on agibbons@smi-online.co.uk
_____________________________________________________________________
About SMi Group:
Established since 1993, the SMi Group is a global event-production company that specializes in Business-to-Business Conferences, Workshops, Masterclasses and online Communities. We create and deliver events in the Defence, Security, Energy, Utilities, Finance and Pharmaceutical industries. We pride ourselves on having access to the worlds most forward-thinking opinion leaders and visionaries, allowing us to bring our communities together to Learn, Engage, Share and Network. More information can be found at http://www.smi-online.co.uk
Featured Product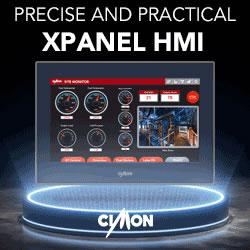 CIMON-XPANEL is a Windows CE based HMI unit. A combination of software and hardware, suitable for various monitoring needs within industrial sites.