New robot features including two bionic arms and advanced voice interaction bring endless possibilities to government, hospitality, public service and retail industries
SHENZHEN, China--(BUSINESS WIRE)--Building on its success in delivering leading technology and expanding its portfolio of "robotics-as-a-service" solutions, QIHAN Technology Company (QIHAN) announced the launch of its next generation humanoid, Sanbot King Kong. The intelligent, cloud-enabled robot features bionic arms, advanced navigation and delivers on QIHANs commitment to bringing indispensable services to government, hospitality, public service and retail industries. Unveiled for the first time today at the 2017 World Robotics Conference in Beijing, Sanbot King Kong will arrive in the North American market at CES 2018.

"The launch of Sanbot King Kong represents our commitment to bringing the world the most advanced robotics solutions and supporting the needs across all industries," said Ryan Wu, CMO, QIHAN. "Were excited about creating an artificial intelligence platform that will provide even more opportunities for robots to interact in our lives. Sanbot King Kongs open SDK development tools will also allow global developers to continue progressing industry applications for future generations of this humanoid."
Advanced Key Specifications and Features
As the next generation in its line of robots, QIHAN expanded original features from Sanbot Elf, allowing Sanbot King Kong to execute valuable and rigorous tasks with a total runtime of 18 hours.
EXTERNAL HARDWARE
Standing at approximately 4.8 feet tall, QIHAN built Sanbot King Kong to more easily interact with humans. Sanbot King Kong now boasts two new bionic arms and hands that provide several degrees of freedom, similar to that of a human arm. Unlike current service robots on the market, Sanbot King Kongs digits are each powered by their own motor, allowing them to move independently.
Sanbot King Kongs newly designed waist enables it to support heavier objects. When an unbalanced force is detected, the waist can automatically change the bodys center of gravity and adjust its posture. This allows Sanbot King Kong to perform well in hospitality services including food delivery and prevents it from falling over when carrying objects on uneven terrain.
Featuring an advanced four-wheel drive system with an external wheel motor and Mecanum wheel chassis design, Sanbot King Kong can move at speeds up to five meters per second. This exceeds the average human walking speed (1.5 meters per second). In addition to its sophisticated movements, Sanbot King Kong is able to tow up to 165 pounds.
INTERNAL HARDWARE
Beyond Sanbot King Kongs exterior enhancements is a strong R&D foundation and upgraded internal technology. Wielding six built-in microphones in its head, Sanbot King Kong has a strong speech recognition program that separates background noise in busy and loud areas. Stemming from QIHANs partnership with IBM Watson and Nuance, Sanbot King Kong is also equipped with innovative speech recognition technology and can identify and communicate in 26 different languages.
Even more notable in the field of commercial service robots, QIHAN has created the robotics industrys first technology using multiple 3D cameras vSLAM (vision simultaneous localization and mapping). This breakthrough technology combines infrared, ultrasound and visual obstacle avoidance technology to help Sanbot King Kong efficiently map out unfamiliar environments and even avoid glass doors and falling objects.
An additional new feature includes a new security password system located on the back of Sanbot King Kongs head. In the form of a password-configured cover, this new security system helps protect the robot from unwanted access to its multiple USB ports and power-supply ports.
For more information about QIHANs Sanbot King Kong, please visit: http://en.sanbot.com/kingkong.html
About QIHAN Technology Co. Ltd.
Headquartered in Shenzhen, China and founded in 2006, QIHAN Technology Co. Ltd. is a company focused on innovations in robotics, artificial intelligence (AI), and data analysis. Its proprietary solutions, QIHAN Cloud, Sanbot, and Q-Link, utilize next-generation robotics and artificial intelligent (AI) technologies to help improve the lives of its customers. With its background of surveillance systems and video analysis, QIHAN has built a substantial pool of over 200 intellectual properties in machine vision recognition, multi-axis automatic control, big data analysis, and more. Employing more than 350 experienced R&D engineers and investing over 10 percent of revenue to technical research and development annually, QIHAN possesses multiple high-tech laboratories and research institutes around the world.
Featured Product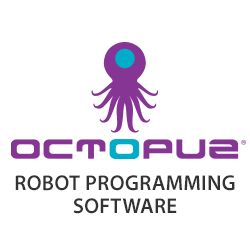 Program and simulate ALL your robots with OCTOPUZ offline software. OCTOPUZ specializes in path sensitive robotic applications such as welding, fabrication, edge following (waterjet, deburring, laser cutting), material removal (2D & 3D machining), and pick & place. Easy to learn, it directly supports paths from your favorite CAM system, has a library of over 15 different types of robot brands, can cut path generation by over 50% and is fully customizable to your unique needs. Program and simulate multiple robots simultaneously in any configuration! Responsive technical assistance from OCTOPUZ before, during and after sale via training, support and cell development make OCTOPUZ the software of choice.