- Empathetic, interactive robots attend with their creator, Dr David Hanson, Ph.D -
LONDON--(BUSINESS WIRE)--IBC2017 is honoured to welcome two very special guests in the form of Sophia and Professor Einstein™, the expressive, intelligent and uncannily humanlike robots designed and created by Dr David Hanson, Ph.D, Founder and CEO of Hanson Robotics. Together with Dr Hanson, they will appear in the Tech Talks Keynote: The Future with Robots that Are Like Us on Sunday 17 September, as part of a day-long strand of discussions that will examine accelerating trends and technologies of the future.

Dr. David Hanson has built a worldwide reputation for creating the worlds most humanlike, empathetic robots, endowed with remarkable expressiveness, aesthetics and interactivity. He has produced many renowned, one-of-a-kind robot characters that have received massive media and public acclaim.
Sophia is Hanson Robotics latest and most advanced robot, with strikingly human expressions and evolving intelligence that enables her to converse and build relationships.
Professor Einstein is the first personal robot from Hanson Robotics. Dr Hanson teamed up with Andy Rifkin, a toy inventor with over 40 years experience, to develop a robot that would honour Albert Einsteins character and unique teaching style of explaining complex topics in a way that everyone could understand. Professor Einstein plays educational games, shares scientific facts and answers questions on a range of topics.
At IBC Sophia, Professor Einstein and Dr Hanson will discuss how robotics and artificial intelligence are set to become a prevalent part of peoples lives, with robots that can learn creativity, empathy and compassion.
Michael Crimp, CEO, IBC, said, "Our Sunday series of Tech Talks offers a privileged opportunity to glimpse the technologies of the future "Were incredibly excited to meet Dr Hanson, Sophia and Professor Einstein at IBC to discuss the future of robotics technology and artificial intelligence, as well as the possibilities they have to enhance human life."
About IBC
IBC is the worlds leading media, entertainment and technology show. It attracts 55,000+ attendees from more than 170 countries and combines a highly respected and peer-reviewed conference with an exhibition that showcases more than 1,700 leading suppliers of state of the art electronic media and entertainment technology.
IBC2017 Dates
Conference: 14 - 18 September 2017
Exhibition: 15 - 19 September 2017
For more information about IBC2017 visit: show.ibc.org/
Featured Product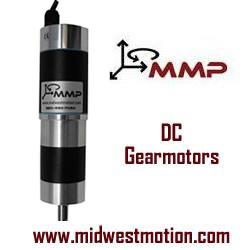 Midwest Motion Products, Inc. (MMP), is a well-established, healthy, & growing Family Owned Business, founded in 2001. MMP specializes in cost-effective standard DC Gearmotors, Motors, Controls, and ancillary equipment. Known world-wide for our "Lightning Fast" delivery capabilities, you can have a Standard Planetary or Right Angled DC Gearmotor BUILT and SHIPPED, often on the very same day you call. Offering Brushed and Brushless designs, with winding voltages ranging from 12 VDC to 120 VDC, we can deliver your "Robust & Reliable" samples within HOURS, instead of weeks, or even months.