Enhanced platform extends operations in high sea states and high latitudes
SUNNYVALE, CA, September 7, 2017 - Liquid Robotics, the leader in long duration, unmanned surface vehicles, today announced the next generation of the Wave Glider with advancements to the platform's operational range, and performance for missions in high sea states and high latitudes. Changes also include advancements for expanded sensor payloads and increased energy and storage capacity required for long duration maritime surveillance, environmental monitoring and observation missions.

"From the very first Wave Glider we've had a passion and relentless commitment to make the world's best unmanned ocean robot," said Roger Hine, CTO and Co-founder, Liquid Robotics. "With our next generation Wave Glider, we've applied learning from approximately 100 years of cumulative water time to enhance an already well-proven design. The result is our Wave Gliders are better prepared than ever before to tackle the dull and dangerous missions."
Customers conducting exploration and surveillance missions in challenging environments are deploying Wave Gliders to collect and communicate data from locations too remote or too dangerous for manned systems. Operating through a wide range of conditions and oceans around the world, including the Arctic (latitude of 78.76N) and Southern Ocean (latitude of 64.8S), this new version builds on the current platform capabilities with the following innovations:
• Performance in high sea states (sea state 6 and greater)
• Advanced navigation in high latitudes (ex: Arctic and Antarctica)
• Supports 30% heavier payloads to enable new sensors and missions
• 15% greater power collection and 40% more battery storage extends operational range and support for larger sensor payloads
• Anti-biofouling copper coating improves system performance and simplifies maintenance
"As we prepared for our deployment in the Southern Ocean, one of the most inhospitable ocean regions on the planet, it was clear that a successful mission required the next generation Wave Glider enhancements to provide reliable operations across the full spectrum of high seas we would encounter," said Dr. Eric Terrill of the Scripps Institution of Oceanography. "We've worked with early versions of this platform off the coast of Iceland for an extreme seas study, and the Wave Glider performed admirably even in seas in excess of 10 meters (sea state 9), so we knew for peace of mind, our Southern Ocean project would require a similar configuration."
For existing customers, an upgrade kit has been developed to expand the capabilities of their existing Wave Glider to match those of the new platform. All sensor integration validated on the current platform is compatible with the new system without new certification. General availability for this new version is October 2017.
####
About Liquid Robotics, A Boeing Company:
Liquid Robotics designs and manufactures the Wave Glider, the first wave and solar powered unmanned ocean robot. With our partners, we address many of the planet's greatest challenges, by transforming how to assess, monitor, and protect the ocean. We solve critical problems for defense, commercial, and science customers. Visit www.liquid-robotics.com to learn more.
Liquid Robotics and Wave Glider are registered trademarks of Liquid Robotics, Inc., a wholly owned subsidiary of The Boeing Company. For media questions, please contact: Joanne Masters at press@liquid-robotics.com.
Featured Product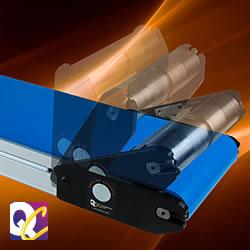 AS40 Conveyors are designed for ease of use and simple integration with robotic applications. Built on a rigid aluminum frame, they feature tee slots for rapid accessory mounting and a tail that flips up at the push of a button for easy under-belt cleaning and belt changes. Nosebar tails are available for transferring small parts between conveyors. All conveyors include a 10 Year Warranty and most are available with a fast five day lead time.