Advanced, high-voltage Gold Drum servo drives, tuned with Elmo's Application Studio motion design software, enable Mega Trax state-of-the-art robotic camera dolly to capture extreme live-action footage
SANTA CLARA, Calif. - Sept. 27, 2017 - Elmo Motion Control (Elmo), a leading provider of innovative motion solutions designed to make smart machines smarter, announces that the revolutionary Mega Trax MX 500 semi-autonomous, high-speed, robotic dolly system uses its Gold Drum HV servo drives and the Elmo Application Studio II (EASII) motion design software tool to achieve never-before-seen, extreme, high-speed, live-action footage.

To address the ongoing creative-meets-financial-and-technical-limitations dilemma in the entertainment industry, Writer/Director Howard McCain and VFX Supervisor David Kuklish founded Mega Trax. With credits spanning large-scale films (Outlander), franchise films (Underworld), televisions shows (Conan) and theme park attractions (Universal Studios), the two entertainment mavens created the worlds first semi-autonomous, high-speed, robotic dolly system. The companys flagship product, the MX 500, is revolutionizing the filmmaking industry by creating high-speed, live-action shots for movies, television, commercials, sports and live event venues that were previously only possible with computer generated imagery (CGI).
Howard McCain, co-founder and CEO, Mega Trax, said, "Elmo has a great reputation for precision motion control, which gave us a high level of confidence in the company. Then, we realized that Elmos servo drives were the only ones that could handle the power and motion control requirements that we needed to deliver extreme action shots with our robotic dolly system. Elmo helped us create a system that will give audiences the jaw-dropping 'wow factor of real, live-action footage."
Each of Elmos four high-voltage, lightweight, extreme power density Gold Drum HV servo drives can handle up to 100A/800V and are capable of delivering more than 65kW of continuous output power. The compact Gold Drum HVs extreme high voltage is vital to the robotic dolly achieving high speeds and fast acceleration. The EASII software tools flexible programming environment makes it easy to quickly create and implement motion, and intuitively program and fully manage Elmos servo drives and motion controllers. Elmos complete motion control solution for the MX500 reduced overall power consumption and extended battery life, and enabled the robotic dolly system to consistently and efficiently reach extreme performance metrics.
The Mega Trax MX 500 semi-autonomous robotic dolly system can:
• Safely go from 0 to 62 mph in 3-3.5 seconds.
• Decelerate, switch directions and again accelerate without hesitation.
• Reach top speeds of over 90 mph.
• Complete up to 50 high-speed, quarter-mile runs per battery charge.
• Achieve perfect synchronization among four motors.
• Capture ultra-smooth camera shots at top speeds.
John McLaughlin, president, North America, Elmo Motion Control, said, "Mega Traxs requisites for high power for acceleration and extreme power density outlined a unique and complex configuration that could only be achieved with a powerful, advanced motion control solution. Through deep motion control expertise and extensive experience, Elmo helped Mega Trax meet and exceed these expectations with high-efficiency servo drives and an easy-to-use programming software tool. Its a thrill to contribute to the creation of such a revolutionary, disruptive technology for a high-profile, innovative industry. We look forward to future opportunities to collaborate with Mega Trax."
About Elmo Motion Control
Elmo Motion Control (Elmo) designs, produces and implements comprehensive, field-proven motion control solutions that make clients' data-driven, smart machines smarter. The companys R&D department combines intelligent motion control technologies, real-time programming and control algorithms with advanced digital hardware to enable leaner, more flexible machines. Controlled by the Elmo application studio (EAS)—a software environment that cuts integration time and maintenance costs—Elmos servo drives and multi-axes motion controllers minimize a machines footprint and cabling, improve throughput, and give original equipment manufacturers (OEMs) a competitive edge. Founded in 1988, the company is headquartered in Israel, employs more than 300 staff worldwide, and has a dedicated presence in the United States, China, Germany, Italy, Korea, Poland and the United Kingdom. For more information, visit www.elmomc.com.
Featured Product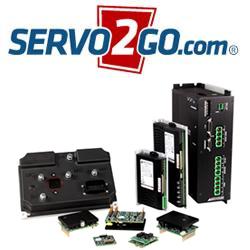 Engineered to drive brushless and brush servomotors in torque, velocity or position mode, Servo2Go.com offers a broad selection of servo drives in a wide range of input voltages and output power levels.