HUBweek celebration showcases explosion of regions robotics industry and ingenuity
More than two dozen different robots will descend on The HUB at Bostons City Hall Plaza as part of the first ever Robot Block Party on Sunday, Oct. 15 during HUBweek 2017.

In collaboration with the City of Boston and HUBweek, MassRobotics will celebrate all things robotics by exhibiting the latest in robotics, providing exciting demos of forthcoming products and showcasing the Massachusetts robotics ecosystem.
Since the launch of its shared workspace, MassRobotics has attracted resident companies that range from those developing drones for precision agriculture to those using robots to transform urban living. The nonprofit is living up to, and often beyond, its mission to serve as the epicenter for the regions robotics community, hosting events and product demonstrations with leading universities like Harvard, MIT, Worcester Polytechnic Institute, Tufts and Northeastern, and welcoming visitors from around the globe to experience this unique ecosystem.
"The generous and engaged support of the City of Boston is integral to continued growth for both MassRobotics and the regions robotics/automation industry. Collaborating with the city to co-host the Robot Block Party as part of HUBweek is an opportunity to celebrate how much weve accomplished and to look forward to all thats still to come," said Tom Ryden, executive director, MassRobotics.
Examples of on-site demonstrations include:
Autonomous cars under development from Nutonomy, Delphi, Optimus Ride, and the MIT CSAIL Toyota Research Center for Autonomous Cars
Personal home robot, from companion to cleaning & weeding
"Design your own robot" technology featuring tools for robot design, making the process of creating robots accessible to beginners and experts alike
Drones, from surveillance to agriculture
Robotic arms and their usage in a variety of applications
University robotics programs
Kris Carter, co-chair, Mayor's Office of New Urban Mechanics, City of Boston, said: "The City of Boston embraces innovation and our place as the home for revolutionary ideas. From automated vehicle companies testing new models of mobility in the Seaport, to robots developed here that are transforming the face of warehouse operations globally, the people and ideas of Boston are changing the world. Robot Block Party will be a fun event for people of all ages interested in what the future might hold for us and how Boston stands to influence it."
HUBweek is a civic collaboration and festival that brings together the most creative and inventive minds making an impact in art, science and technology. Participants at Robot Block Party include: CyPhy Works, iRobot, Harmonic Drive, Vecna Technologies, Symbotic, Jibo, Collabots, DevTech Research Group at Tufts University, SuperPedestrian, Northeastern University, Pong Robotics, UMass Boston, SoftRobotics, Locus, Teradyne/Universal, Delphi, Nutonomy, Optimus Ride, MIT and WPI.
Robot Block Party is a free event and open to the public with The HUB Pass. For more information or to register, visit https://hubweek.org/events/robot-block-party/.
###
About MassRobotics
MassRobotics is the result of the collective work of a group of engineers, rocket scientists and entrepreneurs with a shared vision to create an innovation hub and startup cluster focused on the needs of the robotics and IoT community. It has an extensive network of more than 400 companies, 10 academic institutions and 20 industry-focused associations and organizations. The organization drives international outreach and has active engagements with Ireland, UK, China, Singapore, Chile, France, Canada and UAE, and continues to engage with different countries. MassRobotics mission is to help create and scale the next generation of successful robotics and connected devices companies by providing entrepreneurs and innovative robotics/automation startups with the workspace and resources they need to develop, prototype, test and commercialize their products and solutions. http://www.massrobotics.org
Featured Product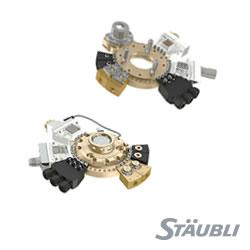 Stäubli is a pioneer in the construction and development of robotic tool changing systems. Our customers benefit from our many years of expertise in all industry sectors, as well as our modular product concept, which offers three efficient solution paths: MPS COMPLETE offers preconfigured robotic tool changers for immediate use. MPS MODULAR allows the user to determine the configuration, while MPS CUSTOMIZED allows the construction of special, application-specific systems.