Hosted at the Computer History Museum, this all-day event will bring together industry leaders and technology experts to the impact of robotics on everything from autonomous vehicles to automated agriculture to healthcare.
SAN JOSE, Calif.--(BUSINESS WIRE)--Robotics is on the rise, and this October 16th two eminent organizations will join forces to explore a transformative future: NEDO and Silicon Valley Forum are delighted to present their conference "Robots on the Rise: Building the Future of Robotics in Japan and the US." Hosted at the Computer History Museum, this all-day event will bring together industry leaders and technology experts to the impact of robotics on everything from autonomous vehicles to automated agriculture to healthcare.

"Were delighted to partner with NEDO on this event," said Denyse Cardozo, Executive Director of Silicon Valley Forum. "Robotics and AI are two disruptive industries that are truly on the move, and its been exciting to see its rapid development over the last few years. I cant wait to hear about whats coming next."
"Its a pleasure to collaborate with Silicon Valley Forum on this event," stated Shinnosuke Kameyama, Chief Representative at NEDOs Silicon Valley office. "NEDO is dedicated to open, global innovation and world-standard technology, and we believe that Japans advanced robotics technologies can have a significant impact on global issues. Were looking forward to hearing how Japan and the US can work together to achieve that goal."
In addition to panel discussions and presentations, "Robots on the Rise" will also feature a demo hall with robotics and AI startups and corporations, which will showcase next-gen technology already in the marketplace. Startups interested in demo tables can apply here.
Event information:
"Robots on the Rise" will open for registration at 9 am, and conclude at 7 pm. Tickets are free, and are available on the event page. As there is no charge to attend the conference, tickets are expected to sell out; those interested in attending are advised not to wait to purchase. Connect with the conference on Twitter with #RobotsRiseSV. More information
About NEDO Silicon Valley:
Since it was established in 1980, NEDO has become one of the largest public research and development management organizations in Japan and has worked with the government to promote economic and industrial policies. In this role, NEDO undertakes technology development and demonstration activities to carry out two basic missions, addressing energy and global environmental problems and enhancing industrial technology, by integrating the combined efforts of industry, academia, and government.
In response to a recent increase in open and global innovation, NEDO has been actively promoting international demonstration projects in Europe, North America, and Asian countries. The projects aim at establishment of world standard technology as well as market development by drawing on established research networks in collaboration with foreign governments and relevant organizations. Through these efforts, NEDO believes that Japans advanced energy, robotics, and other technologies can be disseminated worldwide so as to contribute to the resolution of global environmental and social issues.
About Silicon Valley Forum:
We facilitate connections and provide resources for entrepreneurs and innovators to build and grow a successful company. While we focus on technology and startups in practice, in spirit we build our work around anyone who wants to run their business the Silicon Valley way—this is a place where creativity and innovation are crucial components of success. Our events, customized programs, Startupedia, and strategic partnerships provide the necessary tools to thrive in todays fast-paced digital economy.
For 34 years, our organization has been a key part of Silicon Valleys vibrant ecosystem. We organize over 70 different activities per year and have worked with over 40 countries. Our partners include global leaders Accenture, IBM, Microsoft, Mercer, and K&L Gates, just to name a few; as well as leading venture capital firms and service providers. Silicon Valley Forum is a fully independent 501 (c) (3) non-profit organization.
For more information, visit our website at http://www.siliconvalleyforum.com/.
Featured Product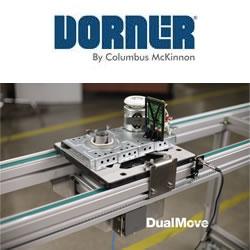 Dorner's 2200 Series Precision Move Pallet Systems are ideal for assembly automation. With features such as an innovative timing belt conveyor design and industry best pallet transfers, they get your product to the exact location, at the exact time and in the exact position it needs to be. They are now available with new options such as heavy load corner modules with 150 lb. capacity and 180 degree tight transfer corners for compact loops.