Exploring the Business, Applications, and Financial Markets of Robotics
CLEVELAND--(BUSINESS WIRE)--Business-to-Business publisher WTWH Media, LLC today announced the selection of Boston for the inaugural Robotics Summit & Expo 2018. The Robotics Summit & Expo will feature an in-depth technology conference and exposition along with a unique Investor Forum to provide insight and forecasting for investor opportunities in robotics.

The Summit is a brand extension of The Robot Report, an on-line resource focused on gathering industry news and exploring the business and applications of robotics. The Robot Report also develops and tracks a global index of robotic companies and industry stocks.
The Robotics Summit & Expo blends todays leading technology with industry stakeholders and investors in a world-class forum to catalyze robotics advancements throughout industrial and consumer markets.
Thought leaders across the industry have formed a Robotics Summit Advisory Council to provide strategic guidance and expertise on technologies impacting business issues, trends and opportunities in the field of robotics. Frank Tobe, Founder of the Robot Report and Travis Briggs, CEO of Robo Global will lead Council discussions.
An extensive peer-to-peer networking component ensures professionals attending gain significant value from leading robotics visionaries speaking, exhibiting, and attending the Summit.
Scott McCafferty, publisher WTWH Media explained, "The robotics industry has gained significant momentum from advances in machine learning and enhanced sensor technologies. These enabling technologies combined with increased industry investment have set the stage for a new dynamic robotics industry."
About WTWH Media, LLC
WTWH Media LLC is an integrated b2b media company serving the design engineering, life sciences, robotics, electronics and renewable energy markets with more than 40 web sites, live & digital events, custom digital services and five print publications. More information at marketing.wtwhmedia.com.
Featured Product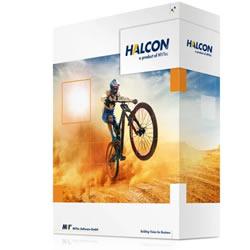 MVTec HALCON is the comprehensive standard software for machine vision with an integrated development environment that is used worldwide in all kind of industries. It enables cost savings and improved time to market. HALCON's flexible architecture facilitates rapid development of any kind of machine vision application. The software provides outstanding performance and a comprehensive support of multi-core platforms, special instruction sets like AVX2 and NEON, as well as GPU acceleration. The latest version HALCON 19.11 offers a wide range of new and improved machine vision functions. Particular emphasis was placed on the integration of further deep learning features. Now users benefit from massive simplifications for their applications, like faster inspection with anomaly detection, more transparency with the Grad-CAM heatmap and the support of ONNX format.