Amsterdams leadership sets the stage for a record breaking inaugural event
ARLINGTON, Va.--(BUSINESS WIRE)--The Consumer Technology Association (CTA) announced today that more than 35 companies will showcase innovative products at the first-ever CES Unveiled Amsterdam, breaking the record for most exhibitors at an inaugural Unveiled event abroad. The event follows the fifth CES Unveiled Paris and serves as a preview of the innovative technology on display at CES 2018. CES Unveiled Amsterdam is scheduled to run from 1:30-5:30 PM on October 26, 2017 at the Beurs van Berlage.

"CES Unveiled Amsterdam is on track to break nearly all of our inaugural-year records for an Unveiled event abroad. From attendees to exhibitors, the tech community in the Netherlands and surrounding countries is showing unparalleled levels of interest in this event," said Gary Shapiro, president and CEO, Consumer Technology Association. "With its Smart Cities initiatives, the Amsterdam startup scene is one of a kind and will be prominently featured at this event."
Products on display will span multiple verticals, including augmented and virtual reality, the Internet of Things (IoT) and robotics. HRH Prince Constantijn of the Netherlands will deliver opening remarks, followed by a CTA market trends presentation and CES news conference. Also featured in the program is a panel discussion on how connectivity improves our lives by high-level executives from global brands such as LibertyGlobal, Phillips, Pricer and TomTom.
The full programming schedule for CES Unveiled Amsterdam can be found online and below:
12:30-1:30 PM: Registration
1:30-1:40 PM: Introduction and Welcome Remarks
Gary Shapiro, President and CEO, CTA
HRH Prince Constantijn, the Netherlands
1:40-2:05 PM: CTA Trends and Market Research Presentation
Steve Koenig, Sr. Director Market Research, CTA
2:05-2:35 PM: CES 2018 News Conference
Gary Shapiro, President and CEO, CTA
Karen Chupka, Sr. VP, CES and Corporate Business Strategy, CTA
2:35-3 PM: Fireside Chat & Panel Discussion: Connectivity Improving Our Lives
Charles Jackson, Deputy CEO, Pricer
Gary Shapiro, President and CEO, CTA
Willem Strijbosch, Head Autonomus Driving, TomTom
Jeoren Tas, Chief Innovation Officer, Philips
Manuel Kohnstamm, Chief Corporate Affairs Officer, LibertyGlobal
3-3:20 PM: Closing Remarks
HRH Prince Constantijn, the Netherlands
Gary Shapiro, President and CEO, CTA
3:20-3:30 PM: Q&A with CTA Executives
3:30-5:30 PM: Networking Reception & Tabletop Exhibition
CTA is partnering with StartupDelta, led by HRH Prince Constantijn, to bring the regions most innovative startups to the event. A part of the CES Unveiled series, CES Unveiled Amsterdam provides budding startups, established brands, buyers, investors and top tier media the opportunity to gather, create partnerships and discuss the latest technology trends.
A full exhibitor lineup can be found here. Check out what exhibitors will be showcasing at CES Unveiled Amsterdam with this video playlist. For more information about exhibiting or attending the event, please visit CES.tech/Unveiled Amsterdam.
A featured startup at CES Unveiled Amsterdam is a UK-based company, Sure Petcare. Sure Petcare, the pet technology specialist, has been developing an award-winning range of microchip-operated pet doors and feeders for the last ten years. Earlier this year, the Microchip Pet Door Connect, the first of the connected range, was introduced to provide insights into pets behavior and support proactive pet care.
High-definition video b-roll from CES is available for easy download on CESbroll.com. See exclusive photos from the CES show floor, keynotes, conference sessions, events and award ceremonies in the CES photo gallery.
About CES:
CES® is the world's gathering place for all who thrive on the business of consumer technologies. It has served as the proving ground for innovators and breakthrough technologies for 50 years-the global stage where next-generation innovations are introduced to the marketplace. As the largest hands-on event of its kind, CES features all aspects of the industry. Owned and produced by the Consumer Technology Association (CTA)™, it attracts the world's business leaders and pioneering thinkers. Check out CES video highlights. Follow CES online at CES.tech and on social.
About Consumer Technology Association:
Consumer Technology Association (CTA)™ is the trade association representing the $321 billion U.S. consumer technology industry, which supports more than 15 million U.S. jobs. More than 2,200 companies - 80 percent are small businesses and startups; others are among the worlds best known brands - enjoy the benefits of CTA membership including policy advocacy, market research, technical education, industry promotion, standards development and the fostering of business and strategic relationships. CTA also owns and produces CES® - the worlds gathering place for all who thrive on the business of consumer technologies. Profits from CES are reinvested into CTAs industry services.
Featured Product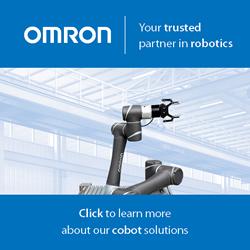 Humans and robots can now share tasks - and this new partnership is on the verge of revolutionizing the production line. Today's drivers like data-driven services, decreasing product lifetimes and the need for product differentiation are putting flexibility paramount, and no technology is better suited to meet these needs than the Omron TM Series Collaborative Robot. With force feedback, collision detection technology and an intuitive, hand-guided teaching mechanism, the TM Series cobot is designed to work in immediate proximity to a human worker and is easier than ever to train on new tasks.