PerceptIns Ironsides product line is the hardware of PerceptIn Robotics Vision System (PIRVS), which provides a multi-sensor module with accurate factory calibration and precise hardware synchronization and works seamlessly with PIRVS SDK.
PerceptIn, a full-stack visual intelligence company, today announced the launch of "Ironsides," its second-generation visual inertial computing module at the International Conference on Intelligent Robots and Systems (IROS) 2017, in Vancouver.

PerceptIns Ironsides product line is the hardware of PerceptIn Robotics Vision System (PIRVS), which provides a multi-sensor module with accurate factory calibration and precise hardware synchronization and works seamlessly with PIRVS SDK. The first generation, "Old Ironsides," was launched in February 2017, is being used by more than 100 companies, research institutes, and individual developers on various applications, including mobile robots, drones, AR/VR, and unmanned vehicles. The second-generation visual inertial computing module "Ironsides" takes a big step forward to build on the first version "Old Ironsides" by combining multi-core low power high efficiency ARM cores into it.
PerceptIns new visual inertial computing module features:
• Hardware features including
o Multi-core ARM SoC for computation
o Calibrated wide FOV stereo camera
o Calibrated 6-axis IMU
o Hardware synchronization
o Serial port for communication
• Working modes including
o Sensor: image and IMU with synchronized timestamp
o Depth: passive dense depth map
o SLAM: real-time localization and mapping
o Compute: flexible platform for user applications
• PIRVS functionalities including
o localization
o mapping
o path planning
o obstacle avoidance
"Either stereo cameras or IMU or multi-core ARM SoC is nothing new and each item has a few available on the market, but the combination of all these together plus full ROS support and interface with other devices (i.e., robots, drones) makes our Ironsides product really unique." said PerceptIns co-founder and CEO Zhe Zhang, "Given that researchers and developers still spend tremendous efforts on gluing things together and reinventing the wheel, we believe we are providing the research and developer community a great sensor PLUS a computing platform with such an affordable AND reliable product."
Ironsides is competitively priced at $399, an affordable price point for the research and developer community. Old Ironsides is now priced down at $299.
On the other hand, PerceptIn has been using Ironsides products to engage with industry customers to integrate PerceptIns visual intelligence solution into their applications on a massive scale. "Its really convenient for both sides in the way that the potential customers can quickly get an experience of our solution via Ironsides products, and by providing feedback and more concrete requirements, it hastens the process of business engagement and negotiation. Several big customers have achieved new advances with us through this." said Shaoshan Liu, co-founder and chairman of PerceptIn, "PerceptIns proprietary algorithms and hardware offer superior performance at a low price point, which allows developers affordable access to technology at a time when robotization continues to revolutionize all aspects of humans life and work. Products at every level will be 'robotized, and our new Ironsides product continues this evolution."
About PerceptIn
PerceptIn (www.perceptin.io), a world-class full-stack visual intelligence company, is leading the way to a new reality where everyday machines see, interpret, learn, and take action. Some of these machines may be what we think of as traditional "robots," but we also anticipate a broad range of devices that take the deep learning of visual intelligence, which can be integrated into almost any device, and introduce advanced functionalities for exciting, new products that liberate workers from mundane tasks, creating new efficiencies. All in a way that is so cost-effective, the new business opportunities will be staggering.
Today, PerceptIn is growing and evolving at a swift pace. Its core technology, focused on visual intelligence, is finding its way onto myriad new devices in a broad range of areas. It is a preferred partner in NVIDIA Inception Program, and it has several other key collaboration partner technology companies.
With offices in Santa Clara, Calif., and Shenzhen, China, PerceptIn has around 30 employees serving more than 100 customers and working on providing hardware and software solutions for the robotization for the next generation of products. PerceptIn recently secured more than $9.6 million of A round and a strategic A+ round funding in July 2017, led by Matrix Partners and a world leading electronics company. It also received an angel round funding from Walden International in May 2016.
Featured Product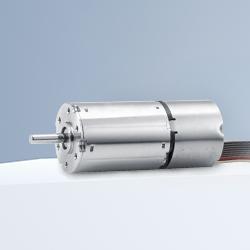 FAULHABER MICROMO launches the new MC3/MCS motion control family. The new high performance, intelligent controllers are optimized for use with FAULHABER motors, offer electronics for simple operation with state-of-the-art interfaces for multi-axis applications, and provide a motion control system solution with the most compact integration into industrial grade housing.