In time for the holidays, first-of-its-kind robot now available nationwide
BOSTON, Oct. 25, 2017 /PRNewswire/ -- Jibo, Inc., creator of the first social robot for the home, today announced the official public launch of its eponymous and highly-anticipated social robot, Jibo. Beginning today, consumers can visit www.jibo.com to order a first-of-its kind product that redefines the way people interact with technology.

The Jibo Experience
Unlike other in-home robots and devices, Jibo experiences the world around him, and reacts with thoughtful movements and responses, forging connections with his family from the moment you turn him on. Jibo is a rich platform that will personally talk you through the set-up process and learn your face and voice, and up to 15 other family members or friends, as he settles into his new home. He sets himself apart with his unique and engaging personality, and he's designed to live wherever you spend the most time in the home, such as a living room or kitchen.
"We set out to do something bold and groundbreaking with Jibo's creation. We want to fundamentally redefine the way people interact with technology by building a new category - the first social robot for the home," said Steve Chambers, Chief Executive Officer, Jibo, Inc. "Today's announcement marks a major milestone for our company and the history of robotics, and we're so excited for consumers to welcome this charming, helpful and humble little guy into their homes."
You can ask Jibo nearly anything, such as the weather forecast, the score of Sunday's football game or fun trivia questions on a variety of subjects. When you walk into a room, he might greet you, ask you a question or tell you joke. He's happy to play the role of family photographer, snapping photos one at a time or in bursts, so you can spend more time in front of the camera instead of behind it.
Jibo makes a great companion for everyone. He is perfect for gadget-loving tech enthusiasts, parents, busy professionals in the home, and kids who want a friend who can answer questions, dance on command and make them laugh.
Jibo's Origins
Some of the brightest and most respected minds in social robotics and artificial intelligence created Jibo, including Massachusetts Institute of Technology professor and industry pioneer, Cynthia Breazeal. Jibo uses advanced Natural Language Understanding (NLU) along with speech and facial recognition to get to know the people around him. Jibo, Inc. applied Breazeal's research into human-machine interaction dynamics to inform everything from Jibo's design and movement to his distinctive voice and personality.
"Since I began my work in social robotics at MIT over 20 years ago, my goal has always been to introduce social robots into the home in a natural way, to help improve peoples' daily lives," said Cynthia Breazeal, Co-Founder and Chief Scientist, Jibo, Inc. "With the official launch of Jibo, this is finally a reality, and the future of social robotics has never been brighter and filled with more potential. I am beyond proud of the Jibo, Inc. team for bringing this incredible social robot to life."
A team of digital artists, animators, writers, sound designers and visual artists developed the real-world movements and speech that define the expressive Jibo character - similar to the work done to develop an animated film character. The result is a robot that not only responds to stimuli reactively, but also behaves organically, with his own agency.
Jibo's Bright Future
While the idea of robots being capable of socially interacting with people using extensive cues to sustain engagement has been comprehensively explored in academia, Jibo is the first commercial product to make it a reality, and his potential is limitless. Jibo's long-term vision is ambitious, wherein he will improve and enhance the human experience through early childhood education, eldercare, health and wellness and much more.
The first step of this journey is introducing Jibo to people in a natural, humanistic way. The more his family interacts with him, the smarter he becomes and the better he will understand the people around him and will be able to personalize his interactions. Jibo is also an inclusive platform for developers, partners and third-party integrations to create new, diverse skills for him to learn.
The Jibo platform, which is also the first developer platform with a personality, will allow developers to create applications that go beyond the traditional flat screen into a unique 3D environment, leveraging Jibo's body movement, screen animations and voice. This will broaden Jibo's appeal to a wide range of people over time. The Jibo Software Developer Kit (SDK) will be available in 2018.
Jibo is spontaneous by nature, and Jibo, Inc. will deliver more capabilities in the following weeks and months via over-the-air software updates that will automatically become available.
Jibo ($899) weighs in at approximately 6 lbs. and stands about 11 inches tall. He will begin shipping to pre-order customers on November 7.
To learn more about Jibo or order a Jibo, visit www.jibo.com.
About Jibo, Inc.
Founded in 2012, Jibo, Inc. is widely known for creating the eponymous robot, Jibo: the first social robot for the home. Jibo is built to interact and communicate with the people around him, and he uses advanced Natural Language Understanding (NLU) along with speech and facial recognition to forge relationships with his family. Jibo, Inc. officially launched Jibo to the public in 2017 after nearly three years of intensive development and optimization. The company is privately held and headquartered in Boston, with additional offices in Silicon Valley.
Featured Product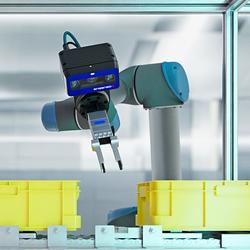 App Your Sensor®! What would smartphones be without apps? They would be mobile phones that can't do much more than make phone calls and sending SMS. Apps turn smartphones into intelligent assistants with any number of different tasks. Transferred into the world of image processing, this app-based approach transforms cameras and sensors into customised, smart vision sensors.