Novarc's Collaborative Spool Welding Robot brings human robot collaboration to the pipe welding industry to help fill the labor shortage of highly-skilled welders
Novarc Technologies, a Vancouver-based robotics company specializing in the design and commercialization of collaborative robots for industrial applications, announced today it will be introducing the worlds first welding collaborative robot at FABTECH, November 6-9, in Chicago, IL. This groundbreaking step, for the pipe welding industry demonstrates that robots can enable companies to meet production requirements even where there isnt a sufficient skilled workforce available. Novarcs collaborative robot will be first available for exclusive demonstration at FABTECH, Booth #B25100.

Novarcs breakthrough collaborative Spool Welding Robot ("SWR") is a semi-automated robotic solution designed for pipe welding, small pressure vessel manufacturing and other 1G welding applications. Novarcs SWR utilizes a three- axis robotic arm at the end of a long reach manipulator, which increases the dexterity and flexibility of the human operator, improving productivity on the shop floor and reducing costs for the pipe shop.
The Skilled Labor Crisis: 400,000 welders missing
Novarcs technology is accelerating the modernization of pipe fabrication shops, increasing their capacity while maintaining quality requirements, which is key for industrial applications using advanced control techniques to solve challenging automation problems. Currently the pipe welding industry is experiencing a severe labor shortage crisis, which has the potential to affect industries such as oil & gas, energy utilities, water & wastewater, food & beverage, shipbuilding, chemical and nuclear plant construction and maintenance. Pipe shops serving these global industries require highly skilled welders, and currently there is a significant shortage of this highly skilled labor force, which according to the American Welding Society, will grow to a shortage of about 400,000 welders by 2024.
Novarc solves this gap by providing a robotic tool to allow less skilled welders to do the work of highly-skilled welders, therefore increasing productivity and solving Pipe Shops employment challenges. Unlike the popular belief that robots are taking away human jobs, Novarcs technology actually opens up jobs for less-skilled workers, as the technology supports them to be able to perform welds more precisely and accurately. Bringing human robot collaboration to the pipe welding industry, Novarc helps pipe shops fill their labor gaps.
Collaborative Robots at Work
"Our talented team of mechatronic, optical and software engineers have created a superior, collaborative robot for industrial applications using advanced control and vision-based systems," says Soroush Karimzadeh, CEO of Novarc Technologies. "Were very excited to introduce and demonstrate our SWR robotic technology to the industrial pipe welding industry at FABTECH this November."
Novarcs SWR is a fast and efficient spool welding robot effective for high-mix, low-volume production, and full penetration root to cap pipe welds. Its also ideally suited for operating in welding shops with limited space. Ushering the era of Big Data, the SWR can store and quickly recount weld data for accurate shop analysis and statistical reporting. Implementation of the SWR can result in a 4x increase in throughput and production capacity and has the potential to recoup its cost in less than six months.
See and Operate the SWR at Fabtech
Novarcs collaborative SWR is currently in operation in the US and Canada, and is expanding throughout North America and Europe. The worlds first collaborative welding robot featuring the smallest footprint in the industry will be available for demonstration at FABTECH at Booth #B25100. To book a time to have a demonstration of Novarcs SWR, email us at demonovarctech.com (there are limited spots available).
ABOUT NOVARC TECHNOLOGIES:
Novarc Technologies is a Vancouver-based robotics company specializing in the design and commercialization of collaborative robots for industrial applications. Novarcs Spool Welding Robot (SWR) is the world's first of its kind in pipe welding application. As a proven pioneer in the field, Novarc has a dedicated team of engineers and scientists eager to solve challenging industrial automation problems that improve our customers' bottom line.
Featured Product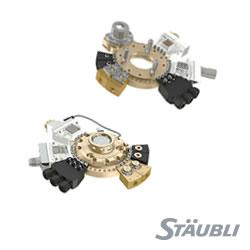 TX2 robots: redefining performance by offering collaborative safety and high performance in a single machine. These pioneering robots can be used in all areas, including sensitive and restrictive environments, thanks to their unique features. Safety functions are easy and inexpensive to implement. They allow a higher level of interactions between robots and human operators, while still guaranteeing protection of your people, production and investment.