Customized Sanbot King Kong robot, Xiaofa, assists visitors and improves the litigation process
BEIJING--(BUSINESS WIRE)--Earlier this month, officials at Beijing First Intermediate People's Court began using Sanbot King Kong, an AI-powered robot designed by QIHAN, to perform basic litigation services at the courthouse. The service robot, Xiaofa, joins more than 30 intelligent solutions recently introduced as part of the Courts All-orientation Service & Whole-process Conciliation.

At 1.5 meters, Xiaofa is equipped with multiple 3D vSLAM (vision simultaneous localization and mapping) cameras and six built-in microphones, allowing it to interact with courthouse visitors and perform basic litigation services. Powered by IBM Watson and Nuance, Xiaofa uses innovative speech recognition technology to transfer visitor inquiries to designated service portals.
"The Xiaofa humanoid robot is capable of memorizing and explaining over 7,000 Chinese laws and regulations, allowing it to assist visitors who would like to learn more about the litigation process, its rules and details of prior cases," said Zhao Lan, litigation management official at Beijing First Intermediate People's Court.
Xiaofas intelligent litigation services will offer convenience to lawyers and citizens by reducing wait times and cost of resources, raising efficiency within a rapidly growing market.
"Integrating robots is a cost-effective, efficient way to provide important information to the public sector," said Ryan Wu, vice president of QIHAN. "From the home to the factory and now to the courthouse, robotics-as-a-service is an instrumental industry solution that is transforming how we interact with the world around us."
The Beijing First Intermediate People's Court is just one of the several government departments in the Chinese public sector to adopt artificial intelligence and robotic services. Other locations to introduce their own Xiaofa intelligent service robots this year include the Intermediate Peoples Court of Nanjing, Xian and Guangzhou Baiyun District Peoples Court.
Sanbot King Kong will be officially released at CES 2018. Location will be Booth No. 25436, South Hall 2, LVCC, Las Vegas, NV, USA, from Jan. 9 - 12, 2018.
For more information about Sanbot, please visit http://www.sanbot.com/.
About QIHAN Technology Co. Ltd.
Headquartered in Shenzhen, China and founded in 2006, QIHAN Technology Co. Ltd. is a company focused on innovations in robotics, artificial intelligence (AI), and data analysis. Its proprietary solutions, QIHAN Cloud, Sanbot, and Q-Link, utilize next-generation robotics and artificial intelligent (AI) technologies to help improve the lives of its customers. With its background of surveillance systems and video analysis, QIHAN has built a substantial pool of over 200 intellectual properties in machine vision recognition, multi-axis automatic control, big data analysis, and more. Employing more than 350 experienced R&D engineers and investing over 10 percent of revenue to technical research and development annually, QIHAN possesses multiple high-tech laboratories and research institutes around the world.
Featured Product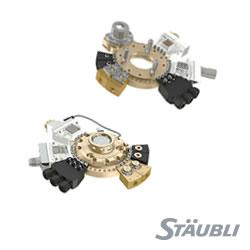 TX2 robots: redefining performance by offering collaborative safety and high performance in a single machine. These pioneering robots can be used in all areas, including sensitive and restrictive environments, thanks to their unique features. Safety functions are easy and inexpensive to implement. They allow a higher level of interactions between robots and human operators, while still guaranteeing protection of your people, production and investment.