Locus Robotics' autonomous mobile robots are now available to Supply Chain Services' network of more than 2,000 warehouse and distribution customers around the U.S.
Locus Robotics, the award-winning provider of autonomous, mobile robots for use in e-commerce fulfillment warehouses, today announced its channel partnership with Supply Chain Services LLC, the leading integrator of supply chain and warehouse technologies. The partnership makes Locus Robotics industry-leading, cutting-edge robotics solution available to Supply Chain Services extensive network of warehouses and distribution centers throughout North America.

"We are excited to announce our partnership with Supply Chain Services," said Al Dekin, SVP of Sales at Locus Robotics. "Supply Chain Services has a proven track record of driving efficiency and throughput in the e-commerce space via the industrys most advanced technology solutions. We look forward to working together to drive greater operational efficiency, productivity, and accuracy."
"Supply Chain Services purpose is to provide our customers with the latest, most innovative technology and equipment to maximize operational efficiencies," said Chip Emery, CEO of Supply Chain Services. "We are delighted to be a value-added channel partner for Locus Robotics, a recognized leader in the warehouse robotics industry, and are confident that their next-generation technology will deliver dramatic productivity benefits for our customers around the nation."
Locus Robotics and Supply Chain Services will showcase Locuss unique, multi-robot warehouse fulfillment solution together at the MinnPack Tradeshow at Booth 747, held November 8-9th at the Minneapolis Convention Center. Visitors will be able to enter a simulated warehouse environment where they can interact with the LocusBots to pick product orders, as well as explore the latest print & apply technologies. This environment dynamically demonstrates the streamlined and integrated warehouse processes Supply Chain Services implements for its customers.
Featured Product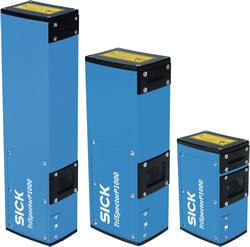 LiDAR (Light Detection and Ranging) is one of the most reliable methods for parts sensing in factory automation today. SICK has made this technology affordable and easy to use! Click on the video link below to learn about the TiM1xx LiDAR sensor and how it provides: - Area scanning LiDAR technology in a standard sensor package - 200-degree field of view and 3 meter sensing range allows for 169 square feet of area scanning - Compact size and light weight enables ease of deployment in "non-standard" type applications, like end-of-arm robotic tooling - Wide area scanning without having to mount a transmitter and receiver makes installation much easier - IO Link for easy configuration