OCTOPUZ Japanese reseller, JBM, will be exhibiting at iREX 2017. Live robotic cells #ArmedWithOCTOPUZ will be operating in the booth. Come say hi!
In just over a week, OCTOPUZ will be exhibiting at iREX 2017 (International Robot Exhibition) in Tokyo with our Japanese reseller, JBM.

iREX is one of the world's largest robot trade shows, and has been held once every two years since 1974. iREX 2015 had over 446 companies and organizations exhibiting, with over 1,882 booths (the largest number ever). The total number of visitors exceeded 120,000 people from over 55 countries at the 2015 show.
Our Japanese reseller, JBM, will be exhibiting OCTOPUZ in their booth. There will be both sales and technical representatives on hand to answer any questions you may have. Find us at booth # IRV13. Some live robotic applications will be happening in the booth, so make sure to drop by to see how you can be #ArmedWithOCTOPUZ.
We will be showcasing the latest version of OCTOPUZ, and may have a bit of a surprise in the booth, so make sure to drop by and get the first look. Let us show you how OCTOPUZ can save you time and money with its intuitive programming and robust versatility.
Applications that OCTOPUZ specializes in include:
Welding: arc welding, MIG, TIG, oxy-acetylene, laser welding, GMAW, GTAW, and resistance welding
Edge Following: deburring, laser cutting, trimming, waterjet, and plasma cutting
Material Removal: 2D machining, 3D multi-surface machining, remote tool center point, and simulated tool/head changes
Simulation: component communication, machine tending, multiple robots, pick & place, PLC, and shop floor layout
Additive Manufacturing: composite lay-up, dispensing, painting, laser cladding, and spraying
The show will be taking place at Tokyo Big Site, November 29- December 2. See you in Tokyo!
Featured Product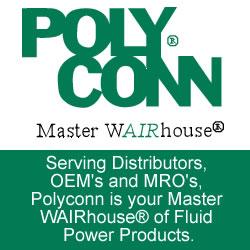 We can produce pneumatic hose and other pneumatic products to match your exact specifications. Our proficient engineering and quality management, coupled with outstanding customer service means Polyconn delivers high quality pneumatic components at competitive prices. Place your order or contact Polyconn for more information on our pneumatic hoses, pneumatic manifolds, Duratec® Pipe or any of our other top quality pneumatic products and components.