Lynx With Amazon Alexa is the First Humanoid Robot to Feature Amazons Cloud-Based Voice Service
LOS ANGELES--(BUSINESS WIRE)--UBTECH Robotics, a global leader in intelligent humanoid robots, today announced the global availability of Lynx with Amazon Alexa, the first humanoid robot to feature Alexa, Amazons cloud-based voice service. Lynx with Amazon Alexa combines UBTECHs award-winning proprietary robotics with cutting-edge Alexa technology. Featuring voice, facial and presence recognition, and key features including Surveillance Mode and Avatar Mode, Lynx with Amazon Alexa offers unprecedented intelligence and robotics for a truly humanlike experience.

Key features of Lynx with Amazon Alexa include:
Facial, Presence and Voice Interaction - With voice command, Lynx will dance, sing, take photos, be an exercise coach, and teach yoga, among other interactions. Lynx can also be programmed to relay greetings or play music when engaged.
Surveillance Mode - With a built-in advanced PIR sensor, Lynx can detect movement and sound within the room and send its owner thirty-second video clips via the opted-in or scheduled app function.
Avatar Mode - Via the app, access Lynxs video and motion on the go to check on home, pets, and join family events from afar.
Music Mode - Play Amazon Music, iHeartRadio, TuneIn, and more with simple voice commands.
Task Management - From calendar reminders & emails, to scheduling appointments and dinner reservations.
Day Planning - Lynx will organize reminders for the day and set them up as shared calendar events.
Shop Away - Use Lynx to search for and purchase the best deals with just your voice.
Lynx with Amazon Alexa retails for $799.99 and is available exclusively through Amazon.
The arrival of Lynx with Amazon Alexa marks the first collaboration between UBTECH and Amazon and reinforces UBTECHs position as a leader in the commercialized robot industry. The companys award-winning intelligent humanoid robots including the Alpha Series robots, STEM-friendly Jimu Robot range, Cruzr, an intuitive, cloud-based service robot, and the new Star Wars First Order Stormtrooper Robot, educate, entertain, assist, and serve the public. With a U.S. valuation of $5B, UBTECH has set ambitious goals for the future.
For more information on UBTECH and its complete line of robots, please visit ubtrobot.com.
Social Media:
Twitter: @UBTECHRobotics
Instagram: @ubtechrobotics
Facebook: facebook.com/ubtechroboticscorp
About UBTECH Robotics: UBTECH Robotics is a global leader in intelligent humanoid robots. The companys interactive robots serve the public, accelerate STEM education for children and assist & entertain in the home. Integrating UBTECH robots into our daily lives enhances how we live, work, learn, and play. To be part of the UBTECH robot generation, visit www.ubtrobot.com and follow UBTECH Robotics on on Twitter, Facebook, Instagram, and YouTube.
Featured Product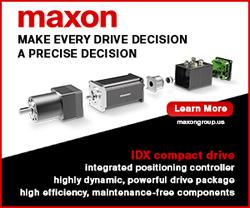 A brushless DC motor solution for use in hip and knee exoskeletons. This complete joint actuation unit consists of motor, gearhead, encoder and position controller. Fitting absolute encoder directly at the joint rotation provides designers increased positioning accuracy. The unit will deliver 54Nm of continuous torque and 120Nm on a 20% duty cycle. The system can be operated on supplies between 10 and 50V DC and the actuation speed is up to 22rpm.