The 2018 Blockchain and Automated IT for Government Summit will convene on January 31-February 1, 2018. The summit will provide a forum for members of the DoD, Federal Government, Private Industry, Academia, and other relevant stakeholders to discuss the innovative capabilities and applications of blockchain, to also include robotic process automation, emerging machine-learning capabilities and varying automated IT technologies for improving business processes within the DoD and Govt. IT environments. The summit is open and complimentary to all DoD employees and is considered an educational and training forum.
On January 31st & February 1st, Defense Strategies Institute will bring together thought leaders and key policy-makers across military services, defense agencies, and civilian organizations for the Blockchain & Automated IT for Government Summit. This two-day summit will provide a forum of off the record for actionable discussions and debate on the innovative efforts to integrate blockchain and automated IT technologies and services into the Federal Government and DoD IT ecosystems.

"Weve started talking with agencies … [and] working with companies, [and] weve started just listening and going around and starting to identify … those business cases and those needs that the distributed ledger systems that blockchain provides and those technologies provide … can impact government," Justin Herman, the lead for the emerging citizen technology program at GSAs Technology Transformation Service.
Whether an organization is interested in improving its data analytics capabilities, authentication & cyber security posture, digital record keeping, or overall level of efficiency, attendees will have the chance to learn more about blockchain technology, the supporting policy, and community at large at this Summit.
To this end, the Blockchain & Automated IT for Government Summit will offer 15 sessions with over 17 diverse senior leader speakers including:
* John M. Bergin, SES, Business Technology Officer, DoD CIO
* Rod Turk, Acting CIO, Department of Commerce
* Bill Zielinski, Deputy Assistant Commissioner, Category Management, Office of Information Technology Category, Federal Acquisition Service, GSA
* Avi Bender, Director, National Technical Information Service, Department of Commerce
* Justin Herman, Intergovernmental Emerging Citizen Technology Lead, GSA Technology Transformation Services, GSA
* Craig Fischer, Innovation Program Manager, Financial Innovation & Transformation, Department of the Treasury
* Anil John, Program Manager, Identity Management and Data Privacy Research, Cyber Security Division, DHS S&T
* Patrick Conway, Chief Knowledge Officer, Knowledge Management-Process Improvement Officer, TRADOC
* Debbie Bucci, IT Architect, Office of Standards and Interoperability, Office of the National Coordinator for Health IT, HHS
* Gerard Dache, Founder & President, Government Blockchain Association
Topics will include:
- Understanding Blockchain and Identifying Opportunities for Application within DoD/Govt. IT Ecosystems
- Increasing IT Efficiencies through Adoption of Automated IT Services, Including Robotic Process Automation (RPA)
- Leveraging Machine Learning Technology for Enhanced Data Management & Intelligence
- Developing Data Virtualization Techniques for Improved Data Management
- Meeting the Demands of a 21st Century Digital Government
- Conducting Cognitive Category Management to Better Support Govt. Procurement & Acquisition
- Blockchain and IoT
DSI welcomes any questions to have posed during the forum: questions should align with the topics of the sessions.
Seating is limited -
In order to allow for actionable discussion and dialogue amongst speaker and attendees, seating will be limited. Early Registration has now begun. Register now to reserve your seat. Active military, government and State personnel attend complimentary. Those interested in participating in the 2018 Blockchain & Automated IT for Government Summit can visit Defense Strategies Institute's website at http://blockchain.dsigroup.org/
Anyone interested in learning more or sending questions contact Morgan at mcolfax@dsigroup.org, 1-201-266-0058.
**Summit is CLOSED TO PRESS / NO RECORDINGS**
Featured Product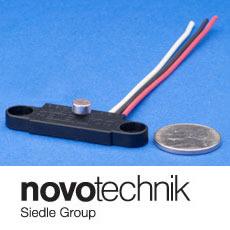 Vert-X 05E Series of dual angle/speed sensors. The series features easy mounting in small and narrow spaces with a 5 mm body depth and mounting flanges with metal inserts. The sensors make measurements only 6 mm from edge of product for close-to-wall measurement applications. Vert-X 05E Series sensors measure angles from 0 to 360°, rotational speed and direction with repeatability to 0.1°.