RobotShop.com, the world's leading source of robotics technology, announces that it expands its operations to Germany.
RobotShop Inc. announces today that it has officially launched its latest European operation dedicated to customers in Germany by offering improved logistics, shipping fees and customer service. German customers can now order from RobotShop.com/de in their own language and currency.

RobotShop sells a wide range of robotic products via localized eCommerce stores which offer quick and affordable shipping options as well as optimized logistics involving one or more warehouses in the selected regions. With the launch of the German division, RobotShop introduces dedicated operations in a third European country after France and the UK. RobotShop's European logistics center serves all 28 countries of the European Union, and ensures a seamless customer experience across this continent.
All of RobotShops logistics facilities handle orders within 24 hours and with this expansion, delivery can now be expected in two to three business days in Germany. There are also no duty fees, taxes, nor customs fees charged upon order reception for European customers. Customers can also benefit from free shipping for orders over 200€ (before taxes) in many European countries, including Germany.
"RobotShop is proud to provide German customers with a customized destination to purchase robotic goods," said Julie Gendron, ​VP Market Development - eCommerce at RobotShop. "Germany is one of the largest eCommerce markets in Europe, and allowing German customers to place orders in their native language and currency, and benefit from improved logistics will greatly enhance their shopping experience."
RobotShop is also well established in the United States, Canada and Japan with dedicated service and logistics centers in these regions. RobotShop ships worldwide, and in countries where dedicated services are not offered, customers can nevertheless shop at one of RobotShops available locations based on their proximity, language and currency.
In order to provide an outstanding shopping experience and customer service, RobotShops eCommerce platforms are continually updated with additional functionality and the latest technology. Continued expansion and improvements are planned in the coming years.
About RobotShop Inc.:
RobotShop is the world's leading source of robotics technology. It provides personal, domestic, and professional robots, development platforms, kits, and specialized robotic parts. RobotShop is also an important source for robotics education, innovation and research.
For more information, visit http://www.robotshop.com.
Featured Product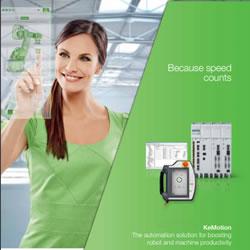 KeMotion stands for the fast, open and customizable automation of robots and machines in the Industry 4.0 era. Thanks to the scalable hardware in combination with many high-performance technology functions and turnkey software packages, the optimum solution can be created quickly and easily.