Creating Affordable Customized Robotic Solutions for Everyday Businesses.
Five Elements Robotics announces the launch of the 5e Connect Robotic Platform. The 5e Connect Platform is designed to be readily customized to a wide range of applications such as retail and shopping, hospitality and hotels, on-demand delivery, and warehouse and distribution centers. The 5e Connect Robotic Platform is fully autonomous with a full suite of path planning, navigation, obstacle detection, and obstacle avoidance capabilities. Compared to other robots on the market, the 5e Connect Robotic Platform is a versatile platform adaptable to a variety of applications both indoor and outdoor.

Five Elements Robotics also provides state of the art, customized user interface apps for the unique requirements of the customers business environment.
The 5e Connect Robotic Platform was developed to address numerous requests for a custom robotic solution across a wide variety of business needs. All requiring similar but unique robotic solutions, Five Elements Robotics created the 5e Connect Robotic Platform to provide the core autonomous behaviors. Engineers at Five Element Robotics can then work with each customer to design and develop a customized payload and user interface suited to their specific application. Overall, using the 5e Connect Platform, customers can significantly reduce investment in new product development and deliver a solution in less time.
In addition to the great quality products and reduced development time that Five Elements Robotics is known for, the 5e Connect Robotic Platform will be offered at a highly competitive price. Five Elements Robotics anticipates the price range for a single customized robot using the 5e Connect Robotic Platform to range from $18,000 - $25,000 each, while comparable robots on the market range from 3-4 times as much. Five Elements Robotics expects the lead time from order placement to delivery using the 5e Connect Robotic Platform for a customized robotic solution to be approximately 6 months. Compared to a typical 2-3 year development time, the 5e Connect Platform offers significant savings on time to market and product development cost.
Several businesses have contacted and contracted with Five Elements Robotics to create customized robotic solutions using the 5e Connect Robotic Platform. These include
Autonomous delivery and retrieval of bedding, towels and other personal items within a resort.
Food delivery within businesses and hospitality.
Delivery of items within an office building, to include food from the café and mail from the mailroom.
Robotic shopping carts for customers within retail, grocery and convenience stores.
More information may be obtained by contacting Five Elements Robotics at corporate_development(at)5erobotics.com.
5e Connect Platform is available at http://www.5erobotics.com.
Five Elements Robotics was founded in 2012 by Wendy Roberts. Five Elements Robotics is dedicated to transforming the human robot relationship by providing high quality affordable robots to everyday people and businesses. Located in Wall, New Jersey, Five Elements Robotics is also the developer of the following highly acclaimed robots:
DASH Robotic Shopping Cart
5e NannyBot
5e VirtualRep
Budgee®
Featured Product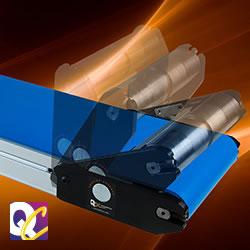 AS40 Conveyors are designed for ease of use and simple integration with robotic applications. Built on a rigid aluminum frame, they feature tee slots for rapid accessory mounting and a tail that flips up at the push of a button for easy under-belt cleaning and belt changes. Nosebar tails are available for transferring small parts between conveyors. All conveyors include a 10 Year Warranty and most are available with a fast five day lead time.