First-of-its-kind social robot honored with CES 2018 Innovation Award
BOSTON, Jan. 9, 2018 /PRNewswire/ -- Jibo, Inc. is showcasing Jibo, the world's first social robot for the home, at CES 2018 in Las Vegas, January 9-12, in booth #30332. The company will offer hands-on demonstrations of Jibo and its brand new Jibo Commander App, one of many new skills slated for release over the next several months.

Jibo's Commander App allows Jibo owners to control multiple interactive aspects of their robots, ranging from speech and movement to visual display, resulting in highly personalized interactions that will delight friends and loved ones. Through the Jibo Commander App, Jibo users will be able to create customized dialogue for their robots for the first time, allowing for special greetings for family members, customized jokes for friends and more. Users can also control where Jibo looks and how he moves, allowing Jibo owners to monitor areas of their homes from another room, snap photos and display custom icons.
The Jibo Commander App was designed with privacy and security in mind, and has measures in place to protect the privacy of Jibo's users and families. Jibo's owner must authorize the use of the Commander App by enabling the feature in the Jibo App, and must authenticate the pairing by logging into the Commander App with their Jibo owner account credentials. Jibo Commander can only be activated if the user is connected to the same Wi-Fi network as their Jibo robot. Once the Commander App is paired with Jibo, Jibo's light ring turns magenta, and a small magenta dot appears on the bottom of the screen to make it clear that Jibo is being operated remotely.
"The feedback from our customers has been clear: Jibo's families are enamored with his charming personality and love the completely unique experience he provides - and they're hungry for more," said Matt Revis, VP, Product Management, Jibo, Inc. "We're thrilled to kick off the release of several new skills with the launch of the Jibo Commander App. Not only is Commander a fun and creative way to engage family members and friends, but it also demonstrates the virtually limitless possibilities that exist for future Jibo skills that leverage his incredible design, interactive technology and distinct personality."
The Jibo Commander App is available for free download in the Apple App Store for iOS devices, and will be available for Android devices later in Q1.
In addition to Jibo, Inc.'s booth, Jibo will be featured in Refinery 29's experiential suite showcasing the hottest new tech products, and at several iHeartRadio activations during the week. Jibo was also honored by the Consumer Electronics Association with a 2018 CES Innovation Award in the robotics category, and will be displayed alongside other award winners.
The launch of the Jibo Commander App follows the December release of Jibo Music powered by iHeartRadio, which streams music, news and talk radio via iHeartMusic Original stations. In addition to playing music, Jibo can answer a wide variety of questions, play the role of photographer at your next party, help you stay updated on a loved one's flight status, and control your smart home devices through an integration with IFTTT, among other capabilities.
Jibo was built by some of the most respected minds in social robotics and artificial intelligence, including Massachusetts Institute of Technology professor and industry pioneer, Cynthia Breazeal. Jibo was recently named one the "Best Inventions of 2017" by TIME Magazine, appearing on the publication's cover for the double issue.
To learn more about Jibo or order a Jibo, visit www.jibo.com.
About Jibo, Inc.
Founded in 2012, Jibo, Inc. is widely known for creating the eponymous robot, Jibo: the first social robot for the home. Jibo is built to interact and communicate with the people around him, and he uses advanced Natural Language Understanding (NLU) along with speech and facial recognition to forge relationships with his family. Jibo, Inc. officially launched Jibo to the public in 2017. The company is privately held and headquartered in Boston, with additional offices in the Silicon Valley.
Featured Product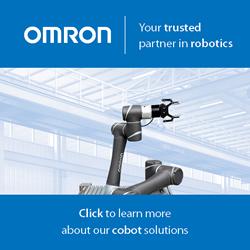 Humans and robots can now share tasks - and this new partnership is on the verge of revolutionizing the production line. Today's drivers like data-driven services, decreasing product lifetimes and the need for product differentiation are putting flexibility paramount, and no technology is better suited to meet these needs than the Omron TM Series Collaborative Robot. With force feedback, collision detection technology and an intuitive, hand-guided teaching mechanism, the TM Series cobot is designed to work in immediate proximity to a human worker and is easier than ever to train on new tasks.