Company Develops Advanced Robotics and AI to enable profitable, one hour, last-mile grocery deliveries, bringing the market to every doorstep
(Tel Aviv, Israel, February 15, 2018) - CommonSense Robotics, a leader in on-demand technologies using AI and advanced robotics, announced today that it raised $20 million in Series A funding, bringing the companys total funding to $26 million. The round was led by Playground Global and includes previous investors Aleph VC and Eric Schmidts Innovation Endeavors. The funds will be used to scale up CommonSense Robotics facility deployment rate, develop their next generation of robotics and AI, and expand global operations and sales.

Using advanced robotics and AI, the company allows retailers for the first time to offer one hour, on-demand grocery deliveries to consumers at a profitable margin, changing the way people access fresh food. CommonSense Robotics is witnessing todays significant tipping point in online grocery, and with over 23% of US households already engaged with online grocery shopping, retailers acknowledge that the "future consumer" is already expecting high quality food to arrive quickly and conveniently to their doorstep.
"The companys use of advanced robotics to reimagine this industry will bring substantial opportunities to retailers, helping them cater to the needs of the next generation of consumers," said Bruce Leak, Founder, Playground Global, "CommonSense Robotics understands that convenience is now paramount for shoppers, and is at the forefront of a major shift in consumer behavior. We are thrilled to be working with them, and look forward to seeing their impact on the retail industry across the globe."
The companys solution enables retailers to up-end and shorten the grocery supply chain by transforming underutilized urban retail space into high capacity Micro-Fulfilment Centers, where robots will efficiently store, sort, and process inventory. This allows retailers of all sizes to keep their inventory close to customers - not in hangars far removed from cities - and offer affordable, scalable and profitable on-demand delivery propositions. The company is currently deploying the first generation of its robots in its first operational facility, and has plans to open more facilities in the United States, UK and Israel in 2018.
"CommonSense Robotics urban fulfillment centers will vastly improve the cost and efficiency of supply chains that havent evolved in decades," said Dror Berman, Founding Partner at Innovation Endeavors. "By implementing a rapid development cycle that brings together data, machine learning, and robotics, CommonSense is advancing a super evolution of logistics"
"Were excited and honored to have Playground join us in this journey. Continued interest from investors is a major vote of confidence in our company and in our vision to make on-demand retail accessible to consumers and retailers alike," remarked Elram Goren, CEO and co-founder of CommonSense Robotics. "The epicenter of this shift is a drastic change to how food is accessed, bought, paid for and eventually prepared. We are excited to be facilitating a paradigm shift around how grocers sell and consumers access food. We believe our solution will play a critical role in how grocery and the food industry evolve."
About CommonSense Robotics:
CommonSense Robotics is building on-demand supply-chains that enable retailers to offer sustainable, affordable one-hour delivery to online customers. Its urban, automated fulfillment solution combines the benefits of local distribution with the economics of automated fulfillment, and is redefining the way goods are delivered within cities. By utilizing a novel approach to this last-mile challenge and state-of-the-art robotics and advanced AI, CommonSense Robotics allows its clients to offer true on-demand services, dramatically reduce their operational costs and benefit from superior operational scalability. Founded in 2015, CommonSense Robotics is based in Tel Aviv.
Featured Product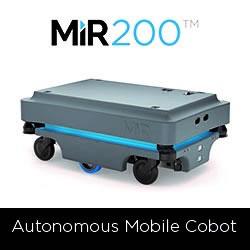 MiR200 is a safe, cost-effective mobile robot that automates your internal transportation. The robot optimizes workflows, freeing staff resources so you can increase productivity and reduce costs. MiR200 safely maneuvers around people and obstacles, through doorways and in and out of lifts. You can download CAD files of the building directly to the robot, or program it with the simple, web-based interface that requires no prior programming experience. With its fast implementation, the robots offers a fast ROI, with payback in as little as a year.