Make an impact on your community and host a STEM event
BEDFORD, Mass., Feb. 15, 2018 /PRNewswire/ -- The ninth annual National Robotics Week takes place April 7-15 across all 50 states. Developed to inspire STEM education, National Robotics Week encourages everyone to take part in this week-long event. Events across the country include robotics competitions, expos, parties, meetups, workshops, classes, camps, and open houses to tours of companies and universities. If you're interested in hosting or sponsoring an event for National Robotics Week, please visit http://www.nationalroboticsweek.org/get-involved.
National Robotics Week, established by Congress and iRobot in 2010, is designed to raise awareness about the importance of STEM education (Science, Technology, Engineering and Math), and how these subjects play a role in shaping the future of education, industry and the U.S. economy. In 2017, there were more than 300 registered events nationwide.
"As the robotics industry grows, careers in artificial intelligence, machine learning, computer vision and data science are in-demand," says Colin Angle, chairman and CEO of iRobot. "As parents, teachers, mentors and business owners, it's imperative that we help kids understand the value of a STEM education. National Robotics Week is about sparking interest and confidence in STEM-related fields. By hosting an event, you are helping to inspire the next generation of roboticists, scientists, engineers and mathematicians."
The National Robotics Week website has helpful resources available for download for anyone interested in hosting an event. Resources include a template press release, National Robotics Week logo, 2018 trading cards, and an activity book for elementary school teachers, among other helpful items.
Additionally, during National Robotics Week there will be a 10 percent discount on iRobot's Create 2 Programmable Robot, a preassembled mobile robot based on the Roomba 600 Series that provides an out-of-the-box opportunity for educators, students and developers to program behaviors, sounds, movements and add additional electronics.
To register an event or to view a full list of 2018 registered events, visit: http://www.nationalroboticsweek.org/Events.aspx. If you're interested in hosting or sponsoring an event and not sure where to start, please email info@nationalroboticsweek.org.
For more information about National Robotics Week, go to: http://www.nationalroboticsweek.org/.
National Robotics Week is also on Twitter (@roboweek and #roboweek) and Facebook(facebook.com/roboweek).
iRobot is committed to building a future for Science, Technology, Engineering and Math (STEM) education in the United States. More information about iRobot's STEM efforts can be found at www.irobot.com/stem.
Featured Product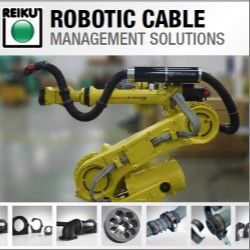 REIKU's Cable Saver™ Solution eliminates downtime, loss of revenue, expensive cable and hose replacement costs, maintenance labour costs. It's available in three sizes 36, 52 and 70 mm. All of the robots cables and hoses are protected when routed through the Cable Saver™ corrugated tubing. The Cable Saver™ uses a spring retraction system housed inside the Energy Tube™ to keep this service loop out of harms way in safe location at the rear of the Robot when not required. The Cable Saver™ is a COMPLETE solution for any make or model of robot. It installs quickly-on either side of the robot and has been tested to resist over 15 million repetitive cycles.