Flippy will begin working alongside kitchen staff at CaliBurgers Pasadena, California location during lunchtime by flipping burger patties and removing them from the grill when cooked to order.
PASADENA, Calif.--(BUSINESS WIRE)--Miso Robotics, the leading robotics and artificial intelligence solutions company, today announced the public debut of 'Flippy, the worlds first autonomous robotic kitchen assistant. Flippy will begin working alongside kitchen staff at CaliBurgers Pasadena, California location during lunchtime by flipping burger patties and removing them from the grill when cooked to order.

Aiming to augment commercial kitchen operations with advanced technology, Miso Robotics developed Miso AI, a cloud-connected learning platform that powers industrial robotic arms. Miso AI combines 3D, thermal and regular vision to automatically detect when raw burger patties are placed on the grill and monitors each one in real-time throughout the cooking process. As the patties cook, Miso AI displays the cooking time on a screen that also alerts kitchen staff when to place cheese on top or when to dress a burger. It also enables Flippy to switch from using a spatula for raw meat and one for cooked meat. In addition, Flippy has the ability to clean spatulas while cooking and to wipe the surface of the grill with a scraper.
"I couldnt be more proud of my incredibly talented team for their hard work in bringing Flippy to life and we are just getting started," said David Zito, co-founder and chief executive officer of Miso Robotics. "Our mission is to improve working conditions of chefs and line cooks with assistants, not replace them. Anyone whos ever worked in a restaurant knows how hard the work is and the value of extra hands and thats exactly what we built."
Miso Robotics understands the many challenges restaurants face, including turnover rate and increasing demand for prepared foods. In 2016, the team partnered with CaliBurger, Cali Groups restaurant operating division, to develop a cost-effective and highly efficient solution leveraging their expertise in robotics and artificial intelligence. This resulted in the concept for Flippy, which was specifically designed to operate in an existing commercial kitchen layout and to serve alongside kitchen staff to safely and efficiently fulfill a variety of cooking tasks.
John Miller, chairman of Cali Group, added, "The deployment of Flippy in CaliBurger restaurants represents a major milestone in helping our staff produce mouthwatering burgers more consistently and in a timely manner. The ease of integration into our existing kitchen lines will also allow us to quickly install Flippy in more locations nationwide."
"I cant think of anything more rewarding than working on something so challenging that also has the potential to be impactful," said Dr. Ryan Sinnet, co-founder and chief technology officer of Miso Robotics. "Our team poured their hearts into getting Flippy ready to cook for people and Im so proud of the grit we displayed to accomplish this in record time."
For more information on when Flippy will be operating, visit CaliBurgers Pasadena website.
Editors Notes: Miso Robotics Media Kit with video and images available here.
About Miso Robotics
Miso Robotics (misorobotics.com) is revolutionizing the restaurant and prepared food industries with innovative robotics and artificial intelligence AI solutions. Miso was founded with a mission to leverage AI technology to help chefs cook food perfectly and consistently and enable restaurants to increase labor productivity, reduce costs and drive profitability while improving the overall dining experience. Miso employs a respected team of roboticists, engineers and industrial designers from Caltech, Cornell, MIT, Carnegie Mellon, Art Center and UNC Chapel Hill.
About Cali Group
Cali Group is a holding company that comprises CaliBurger, a global restaurant chain, and its affiliated technology companies. Cali Group's C-Vision platform ties together the various software products developed by its affiliated companies to enable the entire restaurant to be controlled from one operating system run on a tablet. Cali Group uses its CaliBurger restaurant chain to demonstrate proof of concept and lead the commercial adoption of the C-Vision platform.
Featured Product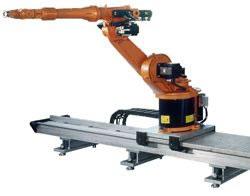 IPR Robotics offers a wide range of servo-driven 7th axis linear rails for industrial robots. These rails come in ten different sizes and are constructed from modular high strength extruded aluminum sections to handle payloads of 100 kg to 1600 kg or from steel to handle 2000 kg payloads. This variety of rail sizes allows each application to be sized correctly, controlling the space required and the price point. The drive train design of these rails utilizes helical gear-racks and is proven over 10 years to be repeatable and reliable, even in tough foundry applications.