Institute Expands 2018 Offerings to Meet Demand for Courses in Artificial Intelligence, Deep Learning, AgTech and Other Innovative Fields
MIT is announcing a new wave of professional education courses designed to reflect the knowledge needs of the workforce of the future. The Institute added a total of seven new classes to its 2018 Short Programs portfolio covering emerging fields and technologies such as artificial intelligence (AI), machine learning, automation, computational design and more.

"In today's business world, people and companies have to stay current to stay relevant. We have launched our next generation of courses to cater to a workforce that wants the knowledge and expertise necessary to compete in the 21st century global economy," said Bhaskar Pant, MIT Professional Education's executive director.
The new courses, which are now open for registration through the MIT Professional Education − Short Programs homepage, include:
o Advanced Machine Learning for Big Data and Text Processing - Provides an in-depth look at the tools, techniques and algorithms driving modern and predictive analysis. Instructors: Regina Barzilay, Tommi Jaakkola, Stefanie Jegeika
o Advances in Food Innovation - Examines opportunities, challenges, and potential solutions in agriculture and food innovation. Instructor: Markus Buehler
o Computational Design for Manufacturing - Explores how robotics and AI can be used to optimize complex product designs and revolutionize manufacturing workflows. Instructor: Wojciech Matusik
o Designing Efficient Deep Learning Systems- Combines custom algorithm and hardware design to enable the development of effective deep learning solutions that are optimized to run on any device regardless of power and memory. Instructor: Vivienne Sze
o Machine Learning for Big Data and Text Processing: Foundations - Explores core mathematical concepts and theories relevant to machine learning. Instructors: Regina Barzilay, Tommi Jaakkola, Stefanie Jegelka
o Machine Learning for Healthcare - Examines emerging trends in machine learning methods for healthcare and how they will shape policy and personalized medicine in years to come. Instructor: David Sontag
o Modeling and Optimization for Machine Learning - Reduces engineering and computational problems to their standard mathematical forms to determine which algorithms and software tools will best solve them. Instructors: Justin Solomon, Suvrit Sra
Short Programs run one to five days, and take place on MIT's campus in Cambridge, Massachusetts during the summer. Courses are led by MIT faculty experts who guide participants through the latest breakthroughs in research, cutting edge technologies and practices relevant to their respective disciplines. Upon completion of a Short Programs course, participants receive an MIT Professional Education Certificate of Completion, continuing education units and access to MIT Professional Education's expansive professional alumni network.
For those seeking a more intensive experience focused on a single topic area, we offer multi-course Professional Certificate Programs currently in: Machine Learning & AI, Innovation and Technology, and Real Estate Finance and Development.
About MIT Professional Education
For more than 65 years, MIT Professional Education has been providing technical professionals worldwide a gateway to renowned MIT research, knowledge and expertise, through advanced education programs designed specifically for them. In addition to industry-focused, one-to-five-day courses on campus through Short Programs, MIT Professional Education offers professionals the opportunity to take blended learning courses through Digital Plus Programs, attend courses abroad through International Programs, enroll in regular MIT academic courses through the Advanced Study Program, or attend Custom Programs designed specifically for their companies. For more information, please visit: professional.mit.edu
Featured Product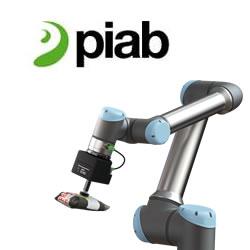 Piab's Kenos KCS gripper enables a collaborative robot to handle just about anything at any time. Combining Piab's proprietary air-driven COAX vacuum technology with an easily replaceable technical foam that molds itself around any surface or shape, the gripper can be used to safely grip, lift and handle any object. Standard interface (ISO) adapters enable the whole unit to be attached to any cobot type on the market with a body made in a lightweight 3D printed material. Approved by Universal Robots as a UR+ end effector.