Compact, One-Man Portable REMUS M3V Is Ready To Use Right Out Of The Box.
POCASSET, Mass., March 13, 2018 /PRNewswire/ -- Hydroid Inc., a subsidiary of Kongsberg Maritime and the leading manufacturer of marine robotics, announced today the release of the new groundbreaking REMUS M3V compact, one-man portable autonomous underwater vehicle (AUV). Low cost and ready to use right out of the box, this micro AUV supports numerous applications including search and survey; intelligence, surveillance and reconnaissance (ISR); marine research; and multi-vehicle missions. The REMUS M3V can dive up to 300 meters in depth. It is a true A-size (36" x 4.875") vehicle with no fins or appendages outside the A-size envelope and can be used for multi-domain deployments.

"The AUV market is rapidly evolving and the heart of underwater exploration. At Hydroid, we continue to grow our product offerings as well as advance the technologies and capabilities of our existing vehicles," said Duane Fotheringham, president of Hydroid. "The REMUS M3V benefits from all of the development and code-base work that has gone into our REMUS 100 AUV. It is a game-changing vehicle. Our vehicle is fully engineered, designed and integrated utilizing proven REMUS software. The thought, design and regression testing has all been done to create a robust product that customers can rely on."
The REMUS M3V can achieve speeds of 10 knots and is equipped with an articulated tail control system and a positioning and navigation system in the standard configuration. REMUS M3V also has a variable center of gravity allowing it to operate in a buoy mode. Outfitted with side scan sonar, the REMUS M3V has a multi-functional tail antenna that includes Iridium, Wi-Fi and a Flasher. The REMUS M3V is a low-logistics system that is compatible with existing survey and AUV capabilities.
To find out more about the revolutionary REMUS M3V, please visit us at www.hydroid.com/REMUS-M3V.
About Hydroid, Inc.
Located in the U.S. and a subsidiary of Kongsberg Maritime, Hydroid is the world's most trusted manufacturer of advanced, field proven Autonomous Underwater Vehicles (AUVs). Our REMUS AUVs and marine robotics systems provide innovative and reliable full-picture solutions for the marine research, defense, hydrographic and offshore/energy markets.
Featured Product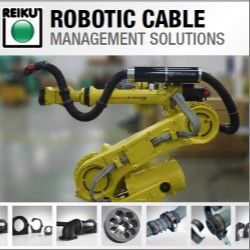 REIKU's Cable Saver™ Solution eliminates downtime, loss of revenue, expensive cable and hose replacement costs, maintenance labour costs. It's available in three sizes 36, 52 and 70 mm. All of the robots cables and hoses are protected when routed through the Cable Saver™ corrugated tubing. The Cable Saver™ uses a spring retraction system housed inside the Energy Tube™ to keep this service loop out of harms way in safe location at the rear of the Robot when not required. The Cable Saver™ is a COMPLETE solution for any make or model of robot. It installs quickly-on either side of the robot and has been tested to resist over 15 million repetitive cycles.