Ex-CTO of Glovo and ex-Head of Sales of Degustabox launch equitycrowdfunding campaign for new autonomous robot start-up
Eliport, a new start-up set up by two Barcelona entrepreneurs, has just launched its equity crowdfunding page, looking to draw investment in order to fulfil its vision of completely automating last-mile delivery through autonomous robots.

Dmitry Skorinko, ex-CTO of Glovo, and Patrick Synge, ex-Head of Sales for Degustabox, founded their new last-mile delivery start-up in October 2017 in Barcelona, looking to bring their delivery industry expertise to the world of autonomous robotics. Their equity crowdfunding campaign, announced in late February 2018, will help them to make their vision -a world where last-mile delivery has been completely automated -a reality.
Unlike 'normal crowdfunding campaigns, which act as pre-selling channels for products that businesses pledge to produce, Eliports equity crowdfunding campaign turns donators into investors.
Eliport believes that the market size of both the robotic automation and delivery industries are set to be enormous, as reinforced by many recent studies on the subject. The autonomous robot market will draw billions of dollars from all of the industries that it advances, in essence creating its own industry-sourced market. As for the delivery industry, between 2014 and 2016 alone, it grew 48% -from 44bn parcels to 65bn delivered worldwide. This is predicted togrow by 17-28% each year between now and 2021.
The total addressable market for Eliport is therefore vast. Even tapping into just 0.1% of the global delivery market would result in presently delivering around 1.78 million parcels per day, and therefore yearly revenues of well over €2bn from parcel delivery alone.
Eliport is therefore offering the public the chance to invest in a growing market that will play a pivotal role in determining the future direction of smart cities and lifestyles.
With the funds generated through their equity crowdfunding campaign, Eliport hope to create their first mechanical prototype by October 2018, with an autonomous prototype being produced by 2020, and deployment happening in 2021.
The campaign will last 3 months in total.
About Eliport
Eliport was born out of Dmitry and Patrick's desire to solve the 'unsolvable' in last-mile delivery services. With Eliport, they aim to solve the last mile logistics problem by providing a fleet of ground-based, robotic delivery machines that will change the face of cities overnight. These robots will be autonomous, and will travel on pavements and in pedestrian zones at walking speed.
The differentiating factor between Eliport and other AGVs is that Eliport's robots will be able to load and unload without human interaction. As such, they will offer businesses reliable and cost-effective delivery services for urban and suburban areas, as well as solving all convenience-based delivery issues for the end consumer.
Eliport launchedits official equity crowdfunding page at the beginning of March 2018
Featured Product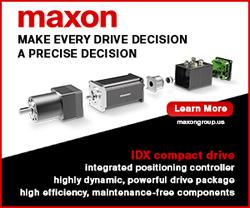 Discover the world of drive technology from a leading worldwide supplier of innovative customized drives. - Manufacturer of brushed and brushless DC motors, gearheads and motion controllers - Custom drive systems, quantities as low as a single unit - Certified for aerospace and medical applications