Robotics innovator delivers new path forward for students to engage in STEM success
LOS ANGELES--(BUSINESS WIRE)--UBTECH Robotics, a global leader in intelligent humanoid robots, is building on its commitment to STEM with a showcase at the 2018 National Science Teachers Association (NSTA) Conference in Atlanta, Georgia. The annual event brings together more than 10,000 educators from across the United States to promote excellence and innovation in science teaching and learning for all. As part of NSTA 2018, UBTECH will demonstrate its award-winning line of JIMU Robots that helps kids develop critical STEM skills in a fun, hands-on environment in booth #656. The conference takes place March 15-18, 2018 at the Georgia World Congress Center.

"UBTECH is bringing STEM learning to life with JIMU Robots," said Jeff Piontek, Head of Education, North America. "By inspiring creativity and innovation through robotics at a young age, we are laying the foundation for a love of STEM that will potentially lead to the pursuit of STEM-related degrees and ultimately careers."
UBTECHs STEM-focused curriculum incorporates Next Generation Science Standards and Common Core Standards, allowing students to learn to design, code and engage with robots in a meaningful way. Students acquire key scientific concepts through a hands-on learning experience while gaining critical soft skills including collaboration, team building and communication.
"STEM skills are paramount to success in the 21st century workforce," said John Rhee, General Manager, North America. "Just 20 percent of todays workforce possess the skills required to fulfill tomorrows jobs. UBTECH is dedicated to closing this STEM skills gap and leading the movement to prepare kids for a brighter future."
To learn more about UBTECH and its complete line of robots, please visit ubtrobot.com.
About UBTECH Robotics: UBTECH Robotics is a global leader in intelligent humanoid robots. The companys interactive robots serve the public, accelerate STEM education for children and assist & entertain in the home. Integrating UBTECH robots into our daily lives enhances how we live, work, learn, and play. To be part of the UBTECH robot generation, visit www.ubtrobot.com and follow UBTECH Robotics on Twitter, Facebook, Instagram, and YouTube.
Featured Product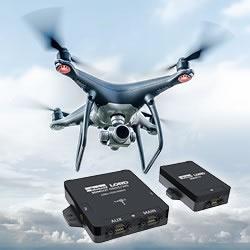 The C-series high performing inertial sensor package provides an OEM form-factor that is optimized for size and weight in Off Highway, Unmanned Ground Vehicles/Mobile Robots and Unmanned Aerial Systems. It's compact and low-profile anodized aluminum housing can be connected directly to a printed circuit board using a UART header or a Samtec FFSD ribbon cable and 2-56 fasteners.