• New features for even more user-friendly machine vision • Highlight: Parallelization • Release date: March 29, 2018
Munich, March 22, 2018 - MVTec Software GmbH (www.mvtec.com), the leading provider of standard machine vision software, shows how user-friendly and uncomplicated machine vision can be with "MERLIC 4 Preview". This preview version, which will be released on March 29, offers a hands-on experience of new and optimized functions in MERLIC 4, the software for developing complete machine vision solutions quickly and easily. Users who are already using or newly purchase an earlier version of the machine vision software can use MERLIC 4 Preview free of charge. The main new feature is parallelization, i.e., the ability to run separate tools at the same time. This makes it possible to implement multi-camera systems more effectively and to use computing capacities more efficiently. Parallelization allows effortlessly implementing and running independent processing threads and optimizes the throughput time from the start of a cycle to its completion.

MERLIC 4 Preview also contains additional practical functions, all of which further improve user-friendliness. For example, a newly developed Tool Flow window provides a clearer overview of the tools used by arranging them in a grid. In this way, connections can also be found more easily. Using copy and paste functions, the tools in this window can be moved around effortlessly. Tool Flow can be completely restructured without any additional parametrization. This further speeds up and simplifies the creation of machine vision applications. Finally, the newly designed Branch-on-Condition tool improves handling of connections, making it possible to immediately see which tools are executed.
Preliminary version makes curious for more
"MERLIC 4 Preview ensures the agile delivery of software to our customers. We are making a preliminary version of MERLIC 4 available at an early point in time. It contains the most important new features, like parallelization, and makes curious for additional new functions," explains Dr. Olaf Munkelt, Managing Director of MVTec Software GmbH.
Thorsten Daus, Product Manager MERLIC at MVTec Software GmbH, adds, "Our goal is to make it as easy as possible for users to create machine vision applications and to meet the demand for additional features in a timely manner. We have achieved this once again with MERLIC 4 Preview, which saves our customers valuable time and money."
About MVTec
MVTec is a leading manufacturer of standard software for machine vision. MVTec products are used in all demanding areas of imaging: Semi-conductor industry, web inspection, quality control and inspection applications in general, medicine, 3D vision, and surveillance. MVTec, with its head office in Munich (Germany), has more than 30 established distributors worldwide and in addition, MVTec, LLC works out of Boston, MA (USA). www.mvtec.com
About MVTec MERLIC
MVTec MERLIC is an all-in-one software product for quickly building machine vision applications without any need for programming. It is based on MVTec's extensive machine vision expertise and combines reliable, fast performance with ease of use. An image-centered user interface and intuitive interaction concepts like easyTouch provide an efficient workflow, which leads to time and cost savings. MERLIC provides powerful tools to design and build complete machine vision applications with a graphical user interface, integrated PLC communication, and image acquisition based on industry standards.
All standard machine vision tools such as calibration, measuring, counting, checking, reading, as well as position determination are included in MERLIC. These are all based on the latest state-of-the-art machine vision technologies, such as matching or deep learning. MERLIC is available for Windows-based PC and embedded platforms, making it ideally suited for use in smart cameras.
www.merlic.com
Featured Product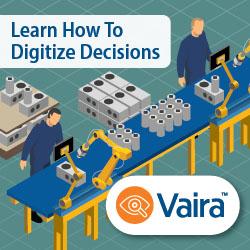 Pleora's AI Gateway simplifies the deployment of advanced machine learning capabilities to improve the reliability and lower the cost of visual quality inspection.