Yale Materials Handling Corporation announces that Shelley Bell has been honored by Supply & Demand Chain Executive as a 2018 Pro to Know.
GREENVILLE, N.C. (March 28, 2018) - With unprecedented access to information, todays B2B buyers conduct over half their research online before making a purchase. As such, they expect consultative, application-focused advice from vendor partners that goes beyond basic product information. Supply & Demand Chain Executive honors seasoned experts who offer such knowledge through the Pros to Know award program and has named Shelley Bell, Manager, Industry Marketing for Yale Materials Handling Corporation, a 2018 Pro to Know.

Bell draws from more than a decade of materials handling and distribution experience, working for companies engaged in almost every facet of the supply chain. Since joining Yale in 2012, she has continually exhibited consultative supply chain expertise and leads a cross-functional team that combines engineering, product management, technology, sales and marketing resources to deliver enterprise solutions for customers.
"Being on such an esteemed list of supply chain professionals is a huge honor and validates our approach to providing industry-focused counsel that offers real value to the customer," said Bell. "The breakneck pace of change means modern supply chains must ditch a launch-it-and-leave-it approach and embrace continuous optimization. Success requires close, committed partners that bring value with an uncommon, outside perspective."
The 17th annual listing of Pros to Know recognizes supply chain executives currently providing solutions to better prepare companies for the fast-evolving challenges of todays business climate. Supply & Demand Chain Executive selected this years winners from a pool of over 300 entries.
About Supply & Demand Chain Executive
Supply & Demand Chain Executive is the executive's user manual for successful supply and demand chain transformation, utilizing hard-hitting analysis, viewpoints and unbiased case studies to steer executives and supply management professionals through the complicated, yet critical, world of supply and demand chain enablement to gain competitive advantage. For more information, visit www.SDCExec.com.
About Yale Materials Handling Corporation
Yale Materials Handling Corporation markets a full line of materials handling lift truck products and services, including electric, gas, LP-gas and diesel powered lift trucks; narrow aisle, very narrow aisle and motorized hand trucks. Yale has a comprehensive service offering including Yale Vision wireless asset management, fleet management, Yale service, parts, financing and training. Yale® trucks are manufactured in an ISO 9001:2008 registered facility and range in capacity from 2,000 to 36,000 lbs.
Yale Materials Handling Corporation is a division of Hyster-Yale Group, a wholly owned subsidiary of Hyster-Yale Materials Handling, Inc. (NYSE:HY). Hyster-Yale Materials Handling, Inc. and its subsidiaries, headquartered in Cleveland, Ohio, employ approximately 6,800 people world-wide.
Yale truck and PEOPLE. PRODUCTS. PRODUCTIVITY. are trademarks, service marks or registered marks in the United States and certain other jurisdictions.
# # #
Company Contact:
Jennifer Timblin
Yale Materials Handling Corporation
252-931-5747
jennifer.timblin@hyster-yale.com
Media Contact:
Dan Gauss
Koroberi
336-409-5391
dan@koroberi.com
Featured Product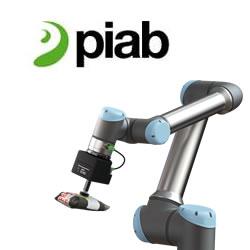 Piab's Kenos KCS gripper enables a collaborative robot to handle just about anything at any time. Combining Piab's proprietary air-driven COAX vacuum technology with an easily replaceable technical foam that molds itself around any surface or shape, the gripper can be used to safely grip, lift and handle any object. Standard interface (ISO) adapters enable the whole unit to be attached to any cobot type on the market with a body made in a lightweight 3D printed material. Approved by Universal Robots as a UR+ end effector.